Sending meeting reminders via email is a common practice that ensures everyone involved has the necessary information and is prepared for the upcoming meeting. However, crafting the perfect reminder email can be time-consuming and may require careful thought to strike the right balance between being informative and respectful of your colleagues' time.

To simplify this process and help you create an impactful meeting reminder email, this article will first give you a detailed how-to writing guide, followed by some meeting reminder email template examples that you can adapt to suit your specific needs. They have been designed to provide a clear and concise overview of the meeting's purpose, agenda, and relevant details, while also conveying a friendly and professional tone.
With the help of these meeting reminder templates, you can streamline your communication process, increase meeting attendance rates, and create a more productive and collaborative work environment.
So, let's dive in and discover the power of effective meeting reminders to enhance your team's efficiency and overall success!
What Is a Meeting Reminder?
A meeting reminder is a notification or message that is sent to participants of a scheduled meeting to alert them about the upcoming meeting, its date, time, location (physical or virtual), and any other important details. They have several purposes:
Time Management: Meeting reminders help participants manage their schedules and allocate time for the upcoming event. This can be especially useful for people with busy calendars or those who have multiple meetings in a day.
Preparation: A meeting reminder often includes an agenda or a list of topics to be discussed during the meeting. This gives you an opportunity to prepare for the meeting, gather necessary documents or materials, and contribute effectively to the discussion.
Attendance: Reminders help ensure that participants do not forget about the meeting. In other words, they're reminded to show up on time. And this is crucial for the productivity of the meeting and to prevent delays caused by late arrivals.
Virtual Meetings: In the context of virtual meetings conducted through video conferencing tools, a meeting reminder email typically includes links or access details for the virtual meeting platform. This ensures that participants can easily join the meeting online.
Courtesy: Sending an email reminder is considered a courteous and professional practice, as it demonstrates respect for participants' time and commitments.
Meeting reminders can be delivered through various means, including email, calendar notifications, SMS (text messages), mobile app notifications, or even automated calendar scheduling tools. The timing of the reminder can vary, but it is usually sent out a day or a few hours before the scheduled meeting time to give participants a heads-up and time to prepare.
Yes, in many cases, the terms "meeting reminder email" and "appointment reminder email" can be used interchangeably. Both types of emails serve the purpose of reminding participants of a scheduled meeting or appointment, providing essential details such as date, time, location, or virtual platform information.
Whether the event is referred to as a meeting or an appointment often depends on the context and the nature of the engagement. Meetings typically refer to business-related discussions, while appointments may include various types of scheduled interactions, such as interviews, consultations, or personal engagements.
In essence, the content and structure of a meeting reminder email and an appointment reminder email are likely to be quite similar, with the primary goal of ensuring that participants are aware of and prepared for the upcoming scheduled interaction.
How to Write a Meeting Reminder Email
Writing an effective and gentle reminder email requires careful consideration of key elements to ensure clarity, professionalism, and engagement. Here are some guidelines you should follow in order to craft the perfect meeting reminder email:
1. Creaft a clear and concise subject line

Start your appointment reminder email with a subject line that clearly conveys the purpose of the email. This helps your message stand out in crowded inboxes and increases the likelihood of it being read and acted upon.
Also, keep in mind that recipients probably have more than one upcoming meeting, so you'll need to be specific. Avoid vague or generic subject lines and instead opt for something specific and informative, such as:
"Appointment Reminder: [Client Name] – [Date] at [Time]"
"Don't Forget: Your [Service] Appointment Tomorrow at [Time]"
"Important Reminder: [Business Name] Appointment Confirmation Needed"
"Reminder: [Date] is Your Consultation with [Professional Name]"
"Last Call: Confirm Your [Service] Appointment by [Deadline]"
"Reminder: Weekly Team Meeting – Agenda Attached"
2. Include a brief and informative introduction
Begin your reminder email with a friendly greeting and a concise introduction that reminds recipients of the meeting's purpose. Next, clearly state the date, time, and duration of the meeting to provide a quick overview.
3. Provide a reminder outline
 
After you've greeted the recipient, the meeting reminder email should be short and to the point. That's why the person is reading it in the first place.
So make sure to outline to the recipient what the meeting is about, even if they already know. After all, this is the point of the reminder – to remind.
4. Recap the agenda


Image source: slideshare
Provide a brief recap of the meeting agenda and highlight the main topics or discussion points that will be covered. This allows participants to mentally prepare. In case there is no agenda set in place, just include the most relevant meeting details.
5. Include any necessary attachments
If there are any relevant materials, documents, or presentations that participants need to review or prepare in advance, attach them to the meeting reminder email. Just ensure the attachments are clearly labeled and easily accessible.
6. Specify the location or virtual platform
If the meeting is held in person, mention the exact location and any relevant instructions or directions. In the case of virtual meetings, include the link or log in details for the online platform you decided to use. The most widely used platforms for online meetings are Google Meet and Zoom.
7. Provide a clear call-to-action

Every meeting reminder template should include a concise and immediately visible CTA.
Clearly state the expected actions from participants, such as reviewing specific documents, preparing reports, or bringing necessary materials to the meeting. You could also encourage recipients to notify you if they are unable to attend rather than just be a no-show.
8. Use a friendly and professional tone
You need to strike a balance between professionalism and friendliness in your tone. That's why you should use polite language and avoid jargon or technical terms that may confuse recipients. In addition, maintain a positive and approachable attitude throughout the email.
The tone would depend on the circumstance. A business meeting would require a more formal email than an informal gathering, for instance.
9. Include bullet points or numbered lists
Organize the meeting details and important information using bullet points or numbered lists. This helps recipients quickly scan the email and grasp the essential details without feeling overwhelmed by lengthy paragraphs.
10. Personalize when possible
If appropriate, personalize your meeting reminder email template by addressing each recipient by name. This adds a personal touch and shows that you value them.
11. Proofread and edit
Before sending your appointment reminder email, take the time to proofread and edit the content. Check for any grammatical errors, typos, or formatting issues with the help of an AI grammar checker. Ensure that the email is visually appealing and easy to read.
In addition, consider sending a follow-up email after the event occurs.
Meeting Reminder Email Templates and Samples You Could Use
Short meeting reminder email template
Subject: Reminder about Meeting on Marketing Strategy – 11 am on Nov 3
Hi Alex,
I want to remind you about the meeting we have coming up on Wednesday, November 3 at 11am. It will be held in meeting room C (1st floor). We will be going over our marketing strategy for the year. If you have any questions, please let me know.
All the best,
Ralph
This short and simple meeting reminder email is straight to the point, clear, and succinct. It aims to provide a quick refresher, ensuring that participants are aware of the meeting and can plan their schedules accordingly.
Keeping the reminder brief and to the point saves time for both the sender and the recipients. This enables efficient communication and minimizes the risk of overlooking or forgetting important meetings.
Meeting reminder notice
SOCIAL ACTIVITIES COMMITTEE MEETING REMINDER NOTICE
January 30, 2020
To: SAC Members
From: RachelTopp, Head, SAC
Re: Meeting Reminder Notice
The next meeting of the Social Activities Committee will be on: Monday, January 20, 2020, 8am – 9am Court Industries Meeting Room B 88 Bank Road, San Diego, CA 92315. We will go over the upcoming events on the calendar and start planning new events. We will also discuss new applications for our committee and discuss how to obtain funding.
If you have any questions about this meeting, please don't hesitate to call me at 575.021.6925
This is a more friendly meeting reminder email sample. It includes the date, the subject, the reminder and a meeting agenda.
Scheme meeting reminder email
Level 16, Grand Plaza 2 Beach Rd, Perth WA 6001 GPO Box A3098, Perth WA 6001
Australia T: +61 (0)8 9210 8735 F: +61 (0)8 9210 8734 ABN 18155 619 294
www.pictureentertainment.com.au
ASX ANNOUNCEMENT / MEDIA RELEASE 14 February 2019 Scheme Meeting Reminder
As per the ASX announcement released by Picture Entertainment Limited ("Picture" or "the Company") on 2 January 2019 regarding updates to the Scheme timetable, the Company wishes to remind stakeholders that the meeting which was originally agreed to take place on Thursday 23 February 2019 at 9am AWST at the Picture offices will now take place on Friday 24 February 2019 at 11am AWST at the Picture offices.
You will find the meeting agenda as well as changes to the date and proxy deadline within the Notice of Meeting which will be sent to shareholders after the adjournment of the Scheme Meeting on 24 February 2019.
If you have any questions about these changes, please contact us at [email protected] or call us on 1498 002 870 (Australia) or +61 1498 002 870 (outside Australia).
Brad McCormack Personal Assistant to the Director
Essentially, a scheme is an action plan for a policy or company. If a meeting is about an upcoming scheme, then employees receive a scheme reminder email. The format for this is the same as a normal reminder email, except, it mentions the scheme.
Appointment reminder email template with an attachment
From: Brown, Eric
Sent: Friday, November 12, 2017,2:41 PM
Subject: Reminder: BOOM BOX SOUNDS Stakeholder Meeting, December 1, 2017
Attachments: December 1 Logistics.pdf; Dec Imaging Draft Agenda_Updated.pdf
You are receiving this message because you are a stakeholder of BOOM BOX SOUNDS.
Dear BOOM BOX SOUNDS Stakeholder:
This message is a reminder of the BOOM BOX SOUNDS stakeholder meeting on December 1, 2017, at 10:00am in New York.
You will find attached a draft meeting agenda for your review. Please find attached also the summary of logistics. This includes the location of the meeting as well as nearby hotels, train stations, and airports.
By the end of next week, we will send you the other documents. These include the stakeholder comments on the first draft of the Yearly Plan and a confirmed meeting agenda. It is hoped that this will update all stakeholders on the Yearly Plan status even if you cannot attend the meeting in person.
Those who would like to attend the December 1 meeting via web link are requested to contact Eric Brown, BOOM BOX SOUNDS, at [email protected] or at +3-454-6879-2328 no later than November 19. Stakeholders who wish to link into the meeting online will be sent the instructions to do so.
If you have already confirmed that you will attend in person, no action is required from you.
Thank you!
Eric
This email meeting reminder template has information concerning a meeting update. The subject and the body of the email both include the date and time details. The message maintains a friendly but professional tone so that recipients know what they need to do.
Also, this template gives clear instructions on what to do if you decide to join the web conference virtually.
Simple meeting reminder email example
Subject: Upcoming Meeting Reminder
Dear [NAME, ex. Elenore Archibald],
This email is to remind you that the next [MEETING] is on [DATE] at [TIME] in the [MEETING ROOM OR PLACE AND ADDRESS].
If you can no longer attend this meeting, please let me know. If you would like further information or have any questions for me, please get in touch prior to the meeting.
Kind Regards,
[YOUR NAME, ex. Tanya Peck]
One more short and simple meeting reminder email template that you could use for many different meetings. It has all the necessary details, including the purpose of the meeting and where it's going to be held.
Formal meeting reminder email
Subject: Reminder: [Meeting Name] on [Date] at [Time]
Dear [Recipient's Name],
I hope this email finds you well. This is a friendly reminder about our upcoming meeting, [Meeting Name], scheduled for [Date] at [Time]. Please note the meeting location is [Location], and we anticipate it lasting approximately [Duration].
Agenda:
[Agenda Item 1]
[Agenda Item 2]
[Agenda Item 3]
Your participation and input are highly valued. If you have any additional agenda items or require any materials for the meeting, please let us know in advance.
Thank you for your attention, and we look forward to your presence at the meeting.
Best regards,
[Your Name]
[Your Title]
[Your Contact Information]
Virtual appointment reminder email
Subject: Join Our Virtual Meeting: [Meeting Name] on [Date] at [Time]
Hello [Recipient's Name],
As we prepare for our upcoming virtual meeting, here are the details you need:
Meeting: [Meeting Name] Date: [Date] Time: [Time] Virtual Platform: [Platform Name] Meeting Link: [Link]
Agenda:
[Agenda Item 1]
[Agenda Item 2]
[Agenda Item 3]
Please make sure you have the necessary access to the virtual meeting platform and any relevant documents ready.
Looking forward to a productive online meeting!
Best regards,
[Your Name]
[Your Title]
Team meeting reminder email
Subject: Team Meeting Tomorrow – Let's Sync Up!
Hi Team,
Just a friendly reminder that our team meeting is scheduled for tomorrow at [Time]. We'll be gathering in [Location/Virtual Platform] to discuss:
[Agenda Item 1]
[Agenda Item 2]
[Agenda Item 3]
Your active participation and insights are key to our success. If you have any updates or items to add to the agenda, please share them with me before the meeting.
See you there, and let's have a productive session!
Best regards,
[Your Name]
Client meeting reminder email template
Subject: Important Client Meeting on [Date] at [Time]
Dear [Client's Name],
I hope you're doing well. We're looking forward to our upcoming meeting scheduled for [Date] at [Time]. The meeting will be held at [Location/Virtual Platform] and will cover:
[Agenda Item 1]
[Agenda Item 2]
[Agenda Item 3]
Your insights are invaluable to us, and we're eager to discuss the agenda items and your expectations.
If there's anything specific you'd like to address or if you need any additional information, please don't hesitate to reach out.
Best regards,
[Your Name]
[Your Title]
[Your Contact Information]
Monthly review meeting reminder email
Subject: Monthly Review Meeting – [Date] at [Time]
Hi Team,
Our monthly review meeting is just around the corner on [Date] at [Time]. We'll gather at [Location/Virtual Platform] to go over:
[Agenda Item 1]
[Agenda Item 2]
[Agenda Item 3]
This meeting helps us reflect on our progress and make improvements. Please come prepared with your insights and suggestions.
Let's make this month's meeting a valuable one!
Best regards,
[Your Name]
Why Is It a Good Idea to Use a Tool to Automatize Sending Your Meeting Reminder Emails?

Using tools to automate email reminders offers numerous advantages and can greatly streamline your communication processes.
Firstly, it saves time and effort by eliminating the need to manually send individual reminders. With automation, you can schedule reminders in advance, and the software takes care of sending them at the specified time, ensuring prompt and consistent delivery.
Moreover, sending automated appointment reminder emails reduces the risk of human error, such as forgetting to send reminders or sending them to the wrong recipients. The automation tools and systems can also track and manage responses to your meeting reminder email, making it easier to keep tabs on attendance and follow-up actions.
Finally, automated reminders can be customized with personalized fields, allowing you to address recipients by name and tailor the content based on specific details.
Say goodbye to missed appointments with Amelia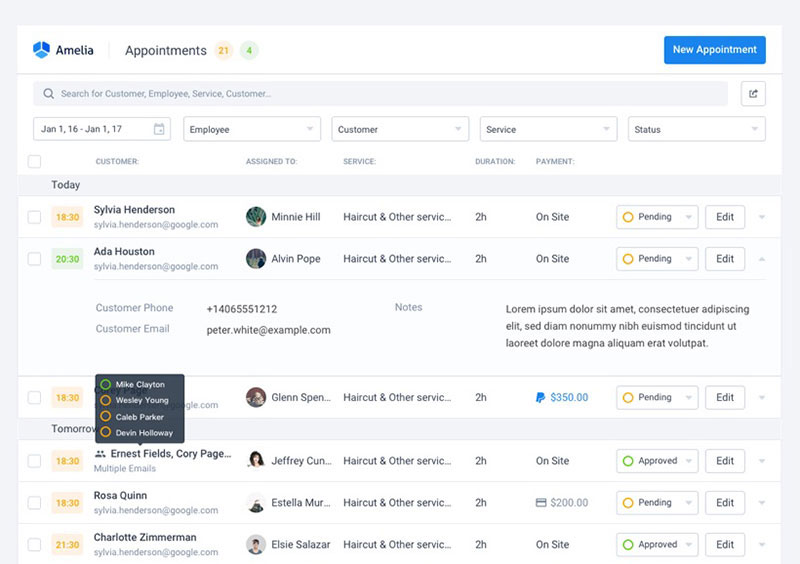 Discover the power of the Amelia booking plugin – your go-to tool for automating meeting reminders and simplifying the entire appointment booking process!
Here's why Amelia stands out:
🗓 Automated scheduling: Set up seamless booking workflows on your website, allowing clients to schedule appointments effortlessly. Once booked, Amelia automatically dispatches confirmation emails with vital meeting details like date, time, and location.
⏰ Reminder notifications: Customize automated reminders to go out before scheduled meetings, ensuring participants are always in the loop. Choose the timing that suits you – be it a 24-hour heads-up or a nudge just an hour before the appointment.
📆 Five event notifications: Stay on top of events with Amelia's five notification types – from bookings and reschedules to cancellations by attendees or admins, and handy next-day reminders.
🌟 Personalization: Elevate customer experience by personalizing meeting reminder emails. Amelia's dynamic fields let you tailor information for each meeting and participant, making communication more engaging and customer-centric.
🔄 Rescheduling and cancellations: Seamlessly handle changes with Amelia. It automates rescheduling notifications, updates calendars, and even suggests alternative time slots. No confusion, just clear communication.
📊 Centralized management: Amelia brings all your appointments, reminders, and client details into one organized dashboard. Stay on top of your schedule, track attendance, and manage your appointments with ease.
Ready to say goodbye to appointment hassles? Try Amelia today and streamline your booking process effortlessly!
FAQs About Meeting Reminder Emails
1. What information should be included in a meeting reminder email?
A meeting reminder should include the date, time, location, or virtual platform details, agenda, and any relevant documents or materials.
2. When should I send an appointment reminder email?
You should send a meeting reminder email 1-2 days before the scheduled meeting to ensure participants have ample time to prepare.
3. Is it necessary to send a reminder for virtual meetings?
Yes, it's essential to send appointment reminder emails for virtual meetings to ensure participants are aware of the online platform, have the necessary technology, and are prepared for the virtual format.
4. What should I do if someone doesn't confirm attendance after receiving the meeting reminder email?
Follow up with the individual directly through email or a quick call to confirm their attendance or address any concerns they may have.
5. Should I send meeting reminders for internal team meetings?
Yes, meeting reminders are valuable for internal team meetings as they help maintain attendance, keep everyone on the same page, and ensure effective collaboration.
6. How can I personalize appointment reminder emails for different recipients?
Personalize appointment reminder emails by addressing recipients by name, acknowledging their specific role or contribution, and tailoring any additional information based on their involvement in the meeting.
7. What is the best format for a meeting reminder email?
A clear and concise format is best, including bulleted key information, a friendly tone, and any relevant attachments or links. Also, use a professional email template for consistency.
8. How do I handle rescheduling in a meeting reminder email?
Clearly communicate the change, provide the new date and time, and apologize for any inconvenience. Moreover, ensure participants confirm their availability for the rescheduled meeting.
9. Is it appropriate to include an agenda in a meeting reminder email?
Yes, including an agenda in the meeting reminder email helps participants prepare for the discussion, sets expectations, and allows them to contribute more effectively during the meeting.
10. Can I customize the message or tone of the appointment reminder email?
You can tailor the message or tone of the meeting reminder using a number of meeting and calendar tools. Also, you can always customize the wording, tone, or format of your meeting reminder template message.
If you enjoyed reading this article and find these meeting reminder email templates useful, you should check out this one on creating a meeting checklist.
We also wrote about a few related subjects: