Every small business owner knows that time means money. Businessmen and women need to make the best use of their time to be successful.
No doubt, business owners plan their schedules based on their appointment bookings. They also take time to prepare for each appointment to give clients the best experience.
So nothing irritates business owners more than when an appointment does not show up. No-shows and canceled appointments rob business owners of their valuable time. And they mean lost revenue.
How can businesses reduce no-shows and canceled appointments? This article will discuss some strategies to tackle this problem.
Send Appointment Reminders
Sometimes clients forget about an appointment or get so busy that they do not have the time to cancel it.
So it is better if the business takes the initiative to remind them of the appointment and ask for a confirmation.
What are some practical steps that you can implement to avoid missed appointments?
Set Up Automatic Reminders

Sending reminder messages about upcoming appointments can impact the number of no-shows. Clients probably don't want to miss their appointment, but it slips their minds when life gets busy.
You can set up an automatic reminder system and not have to worry about it again. You can program the times to send appointment reminders to those with upcoming appointments.
Consider reminding clients well before the appointment so that they can schedule accordingly. Three to six hours beforehand provides them enough time to readjust if necessary.
Remind Clients Using Their Preferred Method
When clients initially make an appointment, ask which method of contact they prefer. Some clients pay more attention to texts, others to emails, and still others to phone calls.
If you send reminder messages to reduce no-shows, you want to make sure the client actually sees it. Although asking their preferred contact method may increase the booking time by a few seconds, it can make all the difference in the end.
Make Reminder Calls
Another option is for business owners to designate a staff member to call and confirm the next day's appointments. They can use this method by itself or use it in conjunction with sending automatic reminders.
Talking to a client on the phone and getting a verbal confirmation will reduce the odds of them not showing.
Request clients to let you know if they cannot make an appointment. You can tell them that you would appreciate the opportunity to offer the time slot to someone else. This will prompt a timely cancelation instead of doing so last-minute.
Get a tool that handles canceled appointments automatically
Staying organized has never been easier.
You can now manage your business and grow your brand with a single, powerful WordPress booking plugin that keeps all of your appointments in line, your clients organized and your business booming.
Amelia is perfect for business owners who need to streamline their booking experience both for their staff and their clients.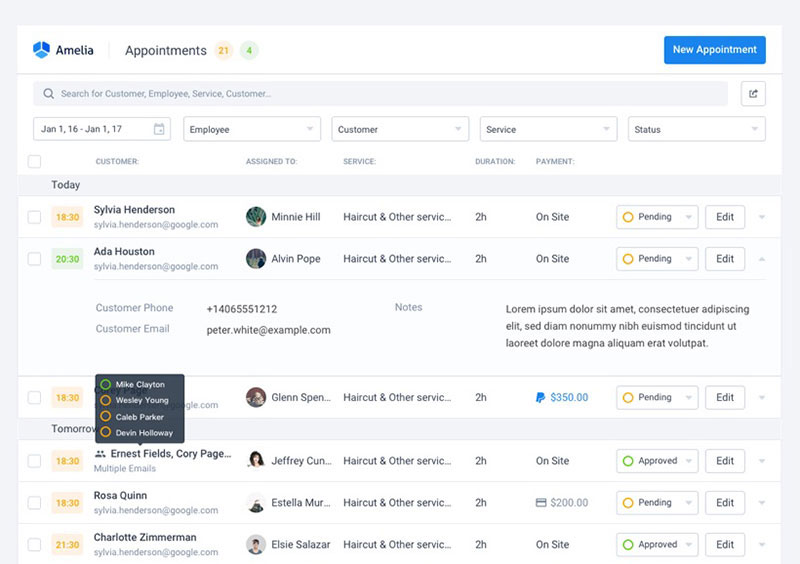 Amelia handles everything for you, even sending automated email or SMS reminders to your clients. No-shows? Not anymore!
The Amelia WordPress booking plugin adapts to different industries for a blissful online booking experience and employee management.
Want to know more? Check out Amelia's awesome features to see what you are missing.
Keep a Waitlist
Keep an updated list of clients who can fill no-shows or cancelled appointments. Include the days and times these waitlisted clients are available.
Take note if they are close to your establishment so that they can take an appointment with short notice. Then if a client does cancel or doesn't show up, you can refer to this list and not miss out on revenue.
Implement Pre-Paid Appointments

Incentivize your clients by accepting pre-payments or by asking for a small deposit. When clients pay in advance, they are more committed to the appointment.
Pre-paid appointments minimize no-shows as most people follow through if they have already spent money.
Note, however, that asking for a deposit or a pre-payment is not the same as charging a cancelation fee. Clients are turned off by extra fees and will most likely find another provider.
In contrast, deposits and pre-payments go toward the service price, making clients feel more comfortable paying them.
To encourage customers to pre-pay, offer a discount. You can also customize the pre-pay amount.
For example, you can let clients pay 20% of the total before the appointment and then pay the rest post-appointment. Decide what works best based on the service you provide and what your clients are willing to pay.
Identify Clients Who Regularly Miss Appointments
There are some clients that, despite regular reminders, fail to show up for appointments. This can be very frustrating since business owners are losing money with these appointment cancellations.
What can they do to solve this problem?
The first thing is to track appointments. Identify which clients consistently do not show or cancel appointments. Then, direct specific efforts towards these clients to prevent further loss of income.
Send Them Extra Reminders

To make sure such a client shows up, business owners can send them additional reminders. You can send two reminders before the appointment. Notify them the day before and the day of the appointment.
Apart from this, call them on the phone on the same day as the scheduled appointment. Ask them if they are going to make it, and if not, you can schedule someone from the waitlist for that time slot.
Set up a Deposit System
Implement a deposit system to avoid appointment cancellations, even if it is only for clients who are serial cancelers.
This way, they will be more committed to making their appointments. Even if they don't make it, their cancelled appointments won't be a total loss.
Use a no show email to the client
This type of no-show email to the client is not for you to release some steam but to make sure that the client rescheduled and you don't lose revenue (and a client). Here are some examples:
Some examples to use
Hi [Name],

I called your phone at 4 p.m. today and it went straight to voicemail. I planned to cover Y and Z during today's call, so I wanted to send over some info to catch you up. Take a look and let me know what questions you have.

- Link or file to piece #1
- Link or file to piece #2
Would you be interested in scheduling another call? I have a [link to meetings app] that should make it easy to select an open time.

Best,

[Your name]


Hi [Name]

It looks like we missed each other today. I wanted to discuss X and Y over with you.

Also, attached are some documents that I wanted to go over during the call: LINK

Let's schedule another call next week. Let me know what time works best for you, or use my booking page to pick up a time that works for you.

Thanks,

[Your name]
Don't Schedule Appointments Too Far in the Future
If a client needs a follow-up appointment six or more months in the future, consider waiting to schedule it. Many things can change during that time, and people are likely to forget about something that far away.
Reward Clients Who Keep Appointments
Reward clients who keep their appointments to prevent cancellations, encouraging them to keep coming and arrive on time. Rewarding people, even with small gestures, makes them feel good and creates positive energy.
In contrast, penalizing people for not showing up creates negative energy. It may even discourage people from booking appointments.
There are several little gestures businesses can do to reward consistent clients. One thing you could do is offer a small discount to those who arrive on time.
Another idea is to include the client's name in a drawing for a gift card. Businesses can also send personalized thank you notes and post-appointment messages.
You can give your best clients personalized corporate gift boxes and maintain a good relationship with your loyal customers.
These small gestures will help your business build long-lasting relationships. They also show that the business respects the client's time and effort. The cost of a small reward will be nothing when compared to a client's loyalty and consistency.
Have a Written Cancelation Policy
A cancellation policy is the best way to let clients know what it means to make an appointment with your business. A clearly stated policy can help avoid casual bookings, last-minute appointment cancellations, and no-shows.
The cancellation policy can include a cancelation fee or the loss of a deposit. It can stipulate that clients need to cancel 24 hours before the appointment to get a full refund on their deposit.
Clearly communicate the cancellation policy on a booking page, in the office, or on the phone. It will save our company a lot of hassle if clients clearly understand the policy before booking.
Do Not Wait to Reschedule Appointments
Immediately rescheduling appointments will not encourage cancelations. But it will ensure that the client eventually comes in. Rescheduling establishes a connection that encourages customers not to miss another appointment.
It is a good idea for you to reach out to the client after a no-show. If you wait for the client to reach out, you will probably wait in vain.
Call the person 30 minutes after the missed appointment time to reschedule. If they don't answer, try again later that same day.
Canceling Appointments Should Be Easy

Image source: Patryk Zabielski
If it's difficult for clients to cancel an appointment, they won't do it. Rescheduling needs to be easy to encourage clients to give you a heads up when they can't make it.
Whether on the phone, by email, or with a booking system, make sure that clients know how to reschedule. Ensure that your contact details are accessible. You may want to analyze your booking system if few people take the time to cancel their appointment when they can't make it.
Some people don't like calling on the phone anymore. Others struggle with emails. Thus, implement an easy-to-use system that appeals to your clients.
Be Proactive to Avoid Missed Appointments
Some clients are late for every single appointment in every industry. If a client is predictably late, proactively manage your schedule.
For example, you might tell such clients that their appointment is at 10, but schedule it for 10:30. Don't be afraid to politely turn away a late client to prevent getting behind on all your appointments.
Another way to be proactive about your schedule is to have a to-do list in case someone doesn't show up. That way, you are still being productive and not wasting that unexpectedly free time.
Develop Strong Relationships

It is vital to develop strong client relationships. Showing your clients personal attention strengthens their commitment to your business.
Small gestures like thank you cards and kind words go a long way. Remember, too, that you need to fulfill your appointments if you expect your clients to do so.
Use a newsletter to keep clients up-to-date with your business' current events. Offer them tips and valuable information.
Clear communication is key. Kindly tell your clients how much it hurts your business when they cancel appointments without advanced notice.
Personal interest and clear communication will make clients feel important. And when a client feels valued, they will also value your company, making them less likely to be a no-show.
Quick questions and answers about missed appointments
How do you handle a cancelled appointment?
Send appointment reminders
Keep a waitlist
Implement pre-paid appointments
Identify clients who regularly miss appointments
Be proactive to avoid missed appointments
How do you deal with last-minute cancellations?
Create a cancellation policy and inform your clients about it
Collect a deposit on confirmed bookings
As your clients politely if they can reschedule
Conclusion on reducing canceled appointments
Ignoring no-shows and cancelled appointments will only hurt your business in the long run. It doesn't take much time or money to address this issue, and solving it will increase revenue.
The first step is to implement a reminder system. It doesn't matter whether those reminders are automatic or personal phone calls the day before. Both methods work well.
Keeping a waitlist, asking for a small deposit, and rewarding customers are other simple steps that can go a long way in reducing no-shows.
A few proactive steps are all it takes to reduce canceled appointments and get this minor problem out of the way of success.
If you enjoyed reading this article on canceled appointments, you should check out this one on how to cancel an event in Google Calendar.
We also wrote about a few related subjects like how to set up online booking for photography on Facebook, how to get more photography clients, how to start a yoga business, how to get consulting clients fast, technology consulting, consulting proposal template examples, the best appointment scheduling software, and yoga marketing.