Have you ever wondered why appointment reminders are an integral part of the scheduling procedure for many businesses today?
Every small business owner knows that time means money. That's why they plan their schedules based on their appointment bookings. They also take time to prepare for each appointment to give clients the best experience.
No wonder nothing irritates business owners more than when an appointment does not show up. No-shows and canceled appointments rob them of their valuable time. And they mean lost revenue.
So, how can businesses reduce no-shows and canceled appointments? By implementing appointment reminders and other strategies into their booking process. Let's see how!
Table of Contents
Appointment Reminders
Sometimes clients forget about an appointment or get so busy that they do not have the time to cancel it.
So it is better if the business takes the initiative to remind them of the appointment and ask for confirmation.
However, there are several different ways you can notify your client about their upcoming appointment.
Set up automatic appointment reminders

Sending reminder messages about upcoming appointments can impact the number of no-shows. Clients probably don't want to miss their appointment, but it slips their minds when life gets busy.
You can set up an automatic reminder system and not have to worry about it again. You can program the times to send appointment reminders to those with upcoming appointments.
Consider reminding clients well before the appointment so that they can schedule accordingly. Three to six hours beforehand provides them enough time to readjust if necessary.
Use appointment reminders your clients prefer
When clients initially make an appointment, ask which method of contact they prefer. Some clients are more likely to pay attention to a reminder email in their inbox, while others are quicker to notice a text message.
If you send a reminder message to reduce no-shows, you want to make sure the client actually sees it. Although asking their preferred contact method may increase the booking time by a few seconds, it can make all the difference in the end.
Make reminder calls
Another option is for business owners to designate a staff member to call and confirm the next day's appointments. This method can be used on its own but works best when combined with a reminder email or text.
Talking to a client on the phone and getting verbal confirmation will reduce the odds of them not showing.
Request clients to let you know if they cannot make an appointment. You can tell them that you would appreciate the opportunity to offer the time slot to someone else. This will prompt a timely cancellation instead of doing so last minute.
The best thing is that you can automatize the entire process by using an effective scheduling system such as Amelia.
Get a tool that handles appointment reminders automatically
The process of creating, managing, and organizing appointments has never been easier.
Grow your brand with a single, powerful WordPress booking plugin that makes the booking experience streamlined and hassle-free for you, your staff, and your clients.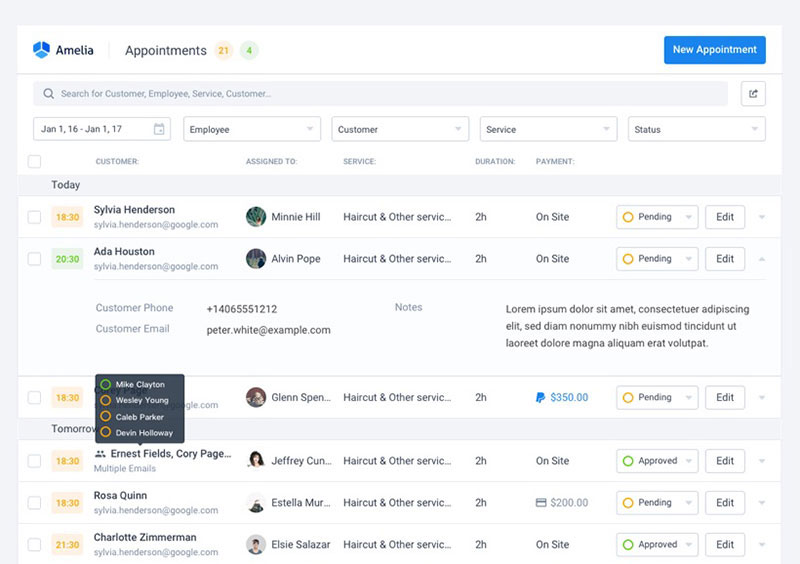 Amelia handles everything for you, including sending automated appointment reminders to your clients. Forget about no-shows and last-minute cancellations!
The Amelia WordPress booking plugin can be used across different industries for an amazing online booking experience.
Want to know more? Check out Amelia's awesome features to see what you are missing.
Additional Steps to Take to Reduce No-Shows
Implement pre-paid appointments

Incentivize your clients by accepting pre-payments or by asking for a small deposit. When clients pay in advance, they are more committed to the appointment.
Pre-paid appointments minimize no-shows as most people follow through if they have already spent money.
Note, however, that asking for a deposit or a pre-payment is not the same as charging a cancellation fee. Clients are turned off by extra fees and will most likely find another provider.
In contrast, deposits and pre-payments go toward the service price, making clients feel more comfortable paying them.
To encourage customers to pre-pay, offer a discount. You can also customize the pre-paid amount.
For example, you can let clients pay 20% of the total before the appointment and then pay the rest post-appointment. Decide what works best based on the service you provide and what your clients are willing to pay.
Identify clients who regularly miss appointments
There are some clients that, despite regular appointment reminders, fail to show up. This can be very frustrating since business owners are losing money with these appointment cancellations.
What can they do to solve this problem?
The first thing is to track appointments. Identify which clients consistently do not show or cancel appointments. Then, direct specific efforts towards these clients to prevent further loss of income. Experiment a bit and try to determine a winning reminder tactic for each case.
Send them additional appointment reminders

To make sure such a client shows up, business owners can send them additional reminders. You can send two reminders before the appointment – an email reminder and a text reminder (cover all the bases). Notify them the day before and the day of the appointment.
Apart from this, call them on the phone on the same day as the scheduled appointment. Ask them if they are going to make it, and if not, you can schedule someone from the waitlist for that time slot.
Have a written cancellation policy
A cancellation policy is the best way to let clients know what it means to make an appointment with your business. A clearly stated policy can help avoid casual bookings, last-minute appointment cancellations, and no-shows.
The cancellation policy can include a cancellation fee or the loss of a deposit. It can stipulate that clients need to cancel 24 hours before the appointment to get a full refund on their deposit.
Clearly communicate the cancellation policy on a booking page, in the office, or on the phone. It will save our company a lot of hassle if clients clearly understand the policy before booking.
Do not wait to reschedule appointments
Immediately rescheduling appointments will not encourage cancellations. But it will ensure that the client eventually comes in. Rescheduling establishes a connection that encourages customers not to miss another appointment.
It is a good idea for you to reach out to the client after a no-show. If you wait for the client to reach out, you will probably wait in vain.
Call the person 30 minutes after the missed appointment time to reschedule. If they don't answer, try again later that same day.
No-Shows vs. Last-Minute Cancellations
How do you handle a no-show?
Send appointment reminders
Implement pre-paid appointments
Identify clients who regularly miss appointments and send them additional reminders
How do you deal with last-minute cancellations?
Create a cancellation policy and inform your clients about it
Collect a deposit on confirmed bookings
Try to reschedule immediately
FAQs about canceled appointments
1. Why was my appointment cancelled?
A cancellation of an appointment could be due to a number of factors, including an emergency or unanticipated development involving the patient or the provider. To learn more about the circumstances surrounding the cancellation of your appointment, it is advisable to speak with the doctor or office directly.
2. How do I reschedule a cancelled appointment?
You can get in touch with the doctor's office directly to reschedule a cancelled appointment. You can do this via phone or email. As an alternative, some healthcare providers could let you change your appointment time online using their website or patient portal.
3. Is there a fee for cancelling an appointment?
For rescheduling an appointment, some providers could charge a fee, while others might not. It's crucial to study the provider's cancellation policy in advance to see whether there is a price and how long you have to cancel without incurring a charge.
4. What is the cancellation policy for appointments?
Depending on the type of appointment and the cause for cancellation, different providers may have different cancellation policies. Most providers will offer a window of time during which cancellations of appointments are free of charge, and they may impose a price for missed or late cancellations.
5. Can I receive a refund for a cancelled appointment?
Depending on the provider's policies, you might occasionally be able to get a reimbursement for a cancelled appointment. To find out if refunds are offered and how the refund process works, it's crucial to contact the provider's office.
6. Will I be charged for a missed appointment?
A no-show fee, sometimes known as a missed appointment cost, may be assessed by some providers. Prior to scheduling, it's crucial to review the provider's cancellation policy to see whether missed appointments will incur a fee.
7. How much notice do I need to give to cancel an appointment?
Although the amount of advance notice needed to cancel an appointment varies depending on the provider, it's usually between 24 and 48 hours. It's crucial to review the provider's cancellation policy in advance to make sure you do so within the necessary timeframe.
8. What happens if the provider cancels my appointment?
If the doctor needs to change the time or date of your appointment, they should let you know as soon as possible. They may also forego any cancellation costs if the cancellation is necessary due to an emergency or other unforeseeable situation.
9. Can I cancel my appointment online or do I have to call?
On their website or patient portal, many doctors allow patients to cancel appointments. However, it's crucial to confirm the cancellation's receipt with the provider's office and find out their preferred cancellation procedure.
10. Is there a penalty for cancelling appointments frequently?
You might not be able to cancel appointments without incurring fees with all providers. It's crucial to review the cancellation policy of the service provider in advance to make sure you are informed of any fees or restrictions for frequent cancellations.
Conclusion
Ignoring no-shows and canceled appointments will only hurt your business in the long run. It doesn't take much time or money to address this issue, and solving it will increase revenue.
The first step is to implement an effective appointment reminder system. Aim at automating the process, as it will save a significant amount of your time and take the workload off.
Besides using appointment reminders, identify regular no-shows, implement pre-payments, create a cancellation policy, and start collecting deposits.
A few proactive steps are all it takes to reduce canceled appointments and get this minor problem out of the way of success.