Scheduling appointments might seem like a simple task that is of no concern to business owners. But, booking mistakes can lead to frustration, loss of time, and loss of profits.
Booking an appointment is the first interaction a customer has with your business. So businesses need to ensure that they are providing them with a good impression.
Thus, an appointment scheduler is an essential business tool. Scheduling software where clients can book appointments online is especially helpful.
Online scheduling systems are comprehensive tools that help businesses with general administrative tasks.
They help with:
employee scheduling
client bookings
appointment calendar management, and much more.
They provide a smoother scheduling experience, which saves time and money.
There are several advantages to using a scheduling tool. This article will give a thorough analysis of the benefits of scheduling tools.
Benefits of Scheduling Tools
Convenience
The traditional way of booking appointments involves clients calling the business. Usually, an employee reads off a paper appointment calendar to explain which days are available. Then they write down the new appointment.
This method capitalized on the technology available at that time, and it worked well for centuries. But now, new technology has arrived that provides a much better solution. For instance, recruiters use staffing agency software that offers two-way email sync, making it easier for recruiters to schedule interviews for candidates.
Nowadays, people don't like talking on the phone. Plus, the old method meant that companies needed to hire a receptionist to schedule appointments.
In contrast, an online scheduling system allows clients to access an appointment calendar. Therefore, it eliminates the need for a back and forth discussion. The calendar shows the services offered and time slots available. So clients can easily book an appointment that works well for them.
Around-the-Clock Booking
With the traditional booking method, clients had to call during business hours. That meant that it could be challenging to get an appointment if they weren't in the same time zone or worked from 9-5.
However, a scheduling system allows clients to book appointments 24/7. This system expands opportunities to cater to clients in other time zones.
A lot of lead generation happens outside of business hours. A scheduling system can scoop up all those leads to make sure that no sales opportunities are missed.
Cultivates Customer Relationships
Developing strong customer relationships is one of the best ways to create a successful business. That means having loyal clients for a lifetime.
How can scheduling software help build strong customer relationships? The first way is by providing an excellent customer experience. A seamless booking experience strengthens the image of smooth business operations. It also makes customers happy.
Another way scheduling software builds customer relationships is by facilitating customer meetings. You can plan in-person meetings and schedule them easily. Additionally, booking software enables virtual meetings with video conferencing integrations.
Booking software also keeps track of client details to provide quality customer service in harmony with client needs.
Offering quality customer service and seamless communication increases customer satisfaction. Increased customer satisfaction leads to client loyalty and more revenue.
Integrates All Online Marketing Channels

You can reach consumers today through several different methods. Potential clients look for companies through a number of channels. Those channels include a Google search, social media marketing, email marketing, and more.
For example, a consumer might hear about a company from an ad on social media. Then they might check out the company's website. Eventually, they may book an appointment through an email coupon.
One consumer can engage with a company through multiple channels on various devices. Companies need to keep up with the different types of devices and media that consumers use.
A sound booking system helps businesses stay competitive in today's tech-driven environment. It integrates all marketing channels so that clients can book wherever whenever.
The online scheduling system's focus should be on customer convenience. That means potential clients should not have any difficulty finding a booking page and booking an appointment.
Quality appointment booking systems allow users to link their appointment booking page to emails, websites, Twitter, Facebook, and more. They work on laptops and mobile devices to book an appointment no matter where they are and what device they are using.
Scheduling systems that integrate all marketing channels ensure that businesses do not let any customer engagement go to waste.
Get the best tool for organizing your appointments
Staying organized has never been easier.
You can now manage your business and grow your brand with a single, powerful WordPress booking plugin that keeps all of your appointments in line, your clients organized and your business booming.
Amelia is perfect for business owners who need to streamline their booking experience both for their staff and their clients.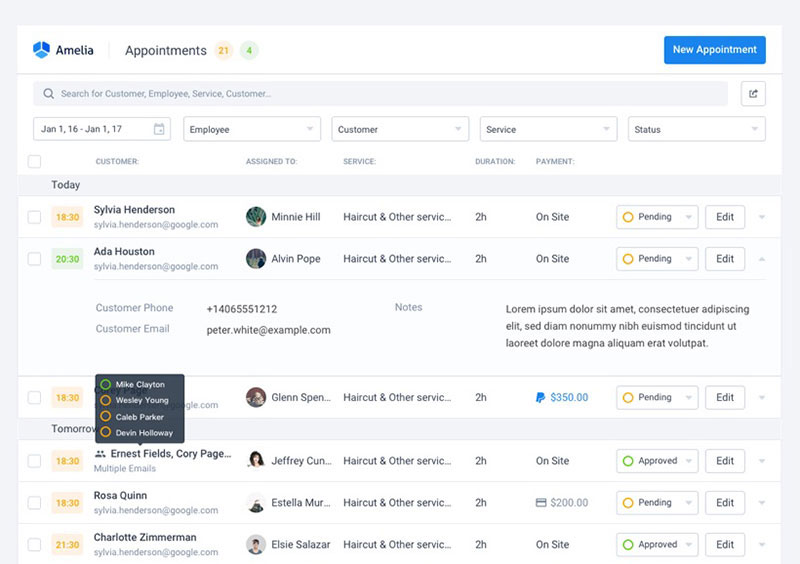 Amelia handles everything for you, even sending automated email or SMS reminders to your clients. No-shows? Not anymore!
The Amelia WordPress booking plugin adapts to different industries for a blissful online booking experience and employee management.
Want to know more? Check out Amelia's awesome features to see what you are missing.
Reduces No-Shows

In every industry, people cancel, reschedule, or don't show up for their appointments. Businesses often arrange their staff according to the number of appointments, so no-shows can throw things off.
Scheduling software can prevent and reduce no-shows by sending reminders. Booking systems automatically text or email customers to remind them of their appointment.
These automatic reminders are an effective scheduling tool. They prevent no-shows, remind employees of appointments, and help a business earn more money.
Booking applications can also help with cancellations and rescheduling. It makes it easy for customers to change their appointment online, saving employees valuable time.
Improves Local Search Results on Google
People want to do business with local companies. Google has seen an increase in visitors searching for local companies. So having a strong local presence is a necessity.
There are a few ways for businesses to appear in Google's local search results. Arguably, the best way is to use a quality appointment scheduler.
Quality scheduling software makes good use of Reserve with Google (RwG). This service allows clients to see companies near them and then book appointments directly from the Google search.
Manages Workforces

Scheduling software is not just about scheduling client appointments. It helps with managing a workforce. It also provides tools for employee scheduling and aids in team communication.
An appointment booking software helps optimize shift schedules to manage costs better. It eliminates problems with overstaffing and understaffing.
It also helps teams get on the same page and work smoothly. Teams can be assigned specific tasks, know who is in charge of what, and know who to contact if they need help.
Such software tracks employee data, so you can choose the best employees for a particular task. It also provides guidance in increasing or decreasing staffing levels as needed.
Increases Productivity and Efficiency
Booking systems free up your employees' time. The booking system takes care of scheduling employees and setting client appointments. While the software is taking care of that, employees can take care of more important business tasks. This fact means there will be an increase in productivity.
There will also be an increase in efficiency as booking systems let employees know exactly what they have to do.
Booking software:
books appointments
helps assign tasks to employees
presents a to-do list
tracks upcoming deadlines
creates benchmarks
measures progress, and more
It puts everything at business owners' fingertips so that they can access it at any time.
Evaluates Progress and Offers Valuable Insights
Strategic planning, long-term goals, and evaluating progress help a business go in the right direction and at the right pace. Unfortunately, running day-to-day activities can be overwhelming and distract owners from looking at the bigger picture.
Many scheduling systems include a business analysis section. This section helps owners monitor progress, identify weak spots, and improve operational efficiency. Regardless of the size of a business, a booking system can provide detailed reporting.
Booking systems can measure:
customer satisfaction
employee performance
number of completed appointments
number of bookings
bookings made due to a marketing campaign
number of no-shows per day, week, and month
number of users
customer appointment history
productivity comparisons
performance of the business as a whole
other important metrics
Analytic dashboards allow owners to determine the state of their business quickly. Armed with statistics and performance indicators, business owners can make strategic decisions to grow their company.
Saves Money
An online appointment booking system saves time which translates into saving money. Resources that were used to manage appointments can now be used for other productive tasks.
An online appointment software saves money by eliminating the need for someone to spend all day booking clients and scheduling employee shifts. Instead, they can spend their time on activities that generate more revenue.
A scheduling system can also cut hiring extra staff or working overtime when managing appointments gets complicated.
Using an online booking system also means that businesses do not have to use a paper appointment book and calendar. So they can cut back on their paper needs. Thus, it saves money in the staff budget and the paper supply budget.
Reduce Mistakes

Manual appointment booking often results in human error. If a serious mistake occurs, clients can become angry, and you may even lose their business.
Often, mistakes are made concerning appointment times. Because of busy schedules, some appointments might accidentally be booked for times when no one is available.
Or another mistake could be forgetting to write down client details, making the client feel under-appreciated or even neglected.
A scheduling system, however, can reduce human error. Booking systems automate tasks such as entering appointments into the calendar.
Users and employees can enter their available hours, set buffer times, and include travel time. So the appointment software will never overlap appointments.
A booking system sends reminder messages so nobody forgets about an appointment. It also automates recording customer details and automatically configures time zone differences.
These automated tasks make sure that everything runs smoothly and they reduce manual work. Most importantly, it minimizes human errors and offers a better client experience.
FAQs about the benefits of scheduling
1. What are the benefits of scheduling in terms of productivity?
Planning is essential for boosting productivity. It lets people schedule their days and set aside time for different tasks, which in turn helps them manage their time effectively. People can concentrate on finishing things in a timely manner without being distracted or overburdened if they have a clear grasp of what needs to be done and when it needs to be done.
2. How does scheduling help with time management?
A useful time management tool is scheduling. Individuals can prioritize their duties, set out time for each task, and make sure they have enough time to do their work by making a timetable. In addition to keeping people on task and preventing procrastination, scheduling promotes improved time management.
3. Can scheduling improve work-life balance?
Schedules can, in fact, greatly enhance work-life balance. Individuals can make sure they have enough time for all facets of their lives by developing a plan that prioritizes both work and personal life. This can aid in lowering stress, enhancing mental health, and enhancing general well-being.
4. What are some strategies for effective scheduling?
Prioritizing tasks, allotting enough time for each activity, utilizing time-blocking tactics, creating attainable goals, and avoiding overscheduling are some techniques for effective scheduling. Additionally, it's crucial to be adaptable and update the schedule as necessary to account for unforeseen circumstances or developments.
5. Does scheduling help with goal setting and achieving objectives?
Schedules can, in fact, aid in goal-setting and accomplishing tasks. People can stay focused and motivated by identifying concrete goals and making a timetable that details the procedures necessary to reach those goals. Scheduling also makes it easier to monitor your progress toward your goals, which can boost your motivation and drive even more.
6. How can scheduling help with reducing stress and anxiety?
By giving you a sense of structure and control, scheduling can help you cope with stress and anxiety. People can feel more organized and less stressed by having a clear strategy for the day and understanding what needs to be done. Additionally, people can prioritize their mental health and lessen stress and anxiety by making time for self-care activities.
7. Can scheduling increase efficiency and reduce wasted time?
Yes, scheduling can boost productivity and cut down on squandered time. People can work more effectively by setting aside certain periods for activities and avoiding distractions. Furthermore, by planning breaks and relaxation, people may refuel and come back to work more energized and focused.
8. How does scheduling help with prioritizing tasks?
By enabling people to evaluate the significance and urgency of each work and spend time accordingly, scheduling aids in task prioritization. People can make sure they are concentrating on the most important things first rather than becoming bogged down with less important duties by prioritizing tasks according to their level of significance and urgency.
9. Can scheduling improve communication and collaboration with team members?
Yes, scheduling can help team members communicate and work together better. Individuals can make sure that everyone is on the same page and working toward the same goals by setting up regular team meetings. Additionally, people may make sure that deadlines are fulfilled and projects are finished on time by arranging a time for both solo chores and collaborative projects.
10. What are some tools or techniques for scheduling effectively?
Utilizing a planner or calendar, setting alarms and reminders, using time-management applications, and adopting time-blocking tactics are some tools and methods for scheduling well. It's crucial to choose the scheduling strategy that suits each person the best and to be adaptable and flexible when necessary.
Ending thoughts on the benefits of scheduling software
The benefits of scheduling software are varied and numerous. They include effective time management, reduced no-shows, decreased human errors, and smart analytics.
Probably the most significant benefit is customer convenience. Booking software captures every lead by offering clients an easy and effective way to book from anywhere at any time.
Smooth booking is the first step to customer satisfaction and strong customer relationships. Strong customer relationships, in turn, lead to more revenue.
Clearly, booking systems are very useful and practical tools that save time and money. Yet, many companies are hesitant to use one.
Sooner or later, every business will have to embrace this technology. If you are hesitant, remember that it is better to enjoy the many benefits of scheduling software now than to have to catch up later.
If you enjoyed reading this article on the benefits of scheduling, you should check out this one on the best appointment scheduling software.
We also wrote about a few related subjects like how to set up online booking for photography on Facebook, how to get more photography clients, how to start a yoga business, how to get consulting clients fast, technology consulting, consulting proposal template examples, and the best online appointment scheduling apps.
Not only that, but we also created articles with fitness event ideas, lots of event planning resources, great event registration landing page examples, and how to use PayPal for event registration.