Understanding photography pricing is a challenge when starting up as a professional photographer. If you're looking to get your photography business started, you're probably asking questions like:
How much do professional photographers typically make?
Should I include per image and per hour costs in my photography prices?
Does the amount wedding photographers charge differ from Portrait photographers?
And is there a reliable photography pricing guide available?
To get the answers to all your photography business questions, keep reading.
Photography Pricing: Why Important?

Photography pricing is an important element of your photography business. Your photography rates will determine almost everything about your photography business. This includes:
Which photography jobs are a priority.
Your profit potential.
Your competition niche.
And your photography business style.
Proper photography pricing is the fuel that enables one to:
Fund equipment upgrades.
Earn extra cash.
Attend professional photography workshops, etc.
It's imperative to pay attention to photography pricing. Especially, when establishing yourself as a professional photographer. Your photography prices should do three things. They should:
Support your business's fixed expenses.
Bring in sufficient profits for the owner.
Leave money for unforeseen expenses.
This is the ultimate photography pricing guide. It is designed to help you establish a profitable pricing strategy for your photography business.
Photography Pricing: How Affected By Supply And Demand

Every business is affected by the principle of supply and demand. At every level, this principle asserts that the prices of goods or services will depend on the level of demand from consumers. It will also depend on the availability of goods or services. It is easy to see how this principle affects photography pricing.
Rural areas allow for more control when it comes to photography pricing. If there are one or two professional photographers in town, the need for competitive prices goes way down.
On the other hand, the most saturated business markets are to be found in and around cities. Cities are where creativity, arts, and culture tend to be nurtured. So, for professional photographers cities are highly competitive locations.
A professional photographer who works in a more saturated local market will need to do deeper data gathering. Such a photographer would need to find out:
How many other photographers offer a similar package to theirs?
What are their hourly rates like?
Is there a gap that you're able to fill?
In rural areas, it's often okay to offer a generalized photography service. But, in more saturated markets it's best to specify your photography packages and services. For example:
Portrait photography
Wedding photography
Food Photography
Event photography
Real estate photography
Or commercial photography
Doing this helps your target audience to easily identify you amidst a crowd of professional photographers. It also helps justify photography prices that are in harmony with your niche. This means potentially more profits for you.
Depending on the type of photography packages you offer, demand for your service will be higher or lower. This will help determine whether you can charge higher or lower prices, so choose your niche carefully.
Like a seesaw, prices can drop when supply is too great or if consumer demand falls. Here are other questions to consider when doing photography pricing market research:
Are photography services in high demand in and around my general location?
Is the demand in my area of specialization/ interest?
What is the current price for this type of photography?
What is the longevity and volatility of this dynamic?
Photography Pricing: Understanding The Market

It's important to understand your local market. Get to know the photography prices of other professional photographers in your locale. Do this, whether their interest is portrait photography, event photography, or wedding photography.
This is especially important when it comes to those photographers in your specialty niche.
Once you have acquired the photography rates of your competitors make sure you set competitive prices. If you do, you will be more likely to get the business of customers who compare photography prices before settling on a photographer.
How can you acquire the photography rates of other professional photographers? Some photographers will share their starting rates with you. That will help you to see what your base rate should be.
What if the photographers in your area are unwilling to share their photography pricing model? Use websites like Payscale. Use Payscale's search feature by typing in key phrases like:
Wedding photographer
Portrait photography
Real estate photography
Food photography
Event photography
Professional Photography
This will prompt Payscale to show results for 'per hour' and 'post production' photography rates in your area. Aside from Payscale, other sites like Glassdoor and Indeed can also give info on pricing.
These prices are a starting point. Be sure to include prices for your:
Fixed expenses
Professionalism
Services
Experience
Production costs
For example, do you travel to photography jobs at your own expense? If so, be sure to add in a gas cost in your final photography price. These points may sound insignificant. But, if you are to be a successful photographer you must price your work for a profit.
Don't lower your photography prices too much to win new business. Under-pricing can make potential clients think your standards are low, while over-pricing may cause them to avoid you. Maintain a pricing range. This gives clients flexibility while keeping you within your profit margin as well.
Photography Pricing: Your Clients

Some clients can afford to pay more for better picture qualities and service. Some genuinely can't afford it. With this in mind, carefully decide who your target audience is then put in the work to reach them. If you fail to find the right audience, it'll be hard to maintain a higher pricing bracket.
Don't allow your emotions to influence your photography pricing decisions. You must push your emotions aside and think like a business owner. Program your thinking by focusing on the following points:
No sensible business owner chooses to run a business to go bankrupt.
No sensible business owner would not want to make a lot of money
A good photography business owner seeks to continually boost profits, year after year.
A good business owner remains aware of the company's smallest income needs to cover overheads and other fixed expenses.
Essentially, you must keep in mind the reality that you need to make enough money to put a roof over your head and food on your table. So it comes down to earning a lot more money than what you spend to run your photography business.
When trying to acquire new clients, one must be selective. Your goal is to build a portfolio of loyal high-paying customers. Clients who shop around for the lowest price will not be loyal customers. 99.99% of the time such ones will search for another photographer with a lower price the next time around.
It's dangerous to promote yourself as a cheap photography option. If you do this, low-paying customers will refer you to other low-paying customers.
But, what if your target market isn't willing to pay according to the photography rates you've established. In such a situation you have three options.
First, try sticking to your higher prices for a few months and watch what happens. New photographers often underestimate the price people are willing to pay for beautiful images of their family.
If that doesn't work, you can lower your prices. If you do this, you will need to work harder to make a profit. You'll either end up working harder or making less.
The third option is to choose a different target market. Look for people that recognize your value and are willing to pay.
To confidently approach photography pricing you need to be sure of your worth. Identify what sets you apart from other photographers in your niche. Identify the unique value you bring to the table. Then ask yourself, 'does my value justify a higher pricing model?'
You need to be sure of the image you want to portray to potential customers. How do you see yourself? Is your photography business an elite service, a cheap option for small businesses, or somewhere in between? Are you a luxury photography service that offers high quality?
Take the time to identify how you want to be seen and adjust your literature, website, and prices accordingly. Doing this will help justify your chosen rates.
Photography Pricing: Cost-Income Relationship

Adjusting your photography pricing to match what other photographers charge isn't enough. You need to also consider the cost of doing business in your area. This includes your overheads and other fixed expenses.
Once you understand your photography market, try to identify your cost-income relationship. Understanding the costs associated with running your photography service helps you to set fair rates. It also helps you to determine your profit and profit margin.
The point is to keep track of how much things cost, so as to set good prices. This also helps you identify the amount of money you'll be making. This is equally important to the need to understand your local market and how supply and demand impact your photography rates.
Don't fool yourself into thinking you need a photography pricing model that only factors in a camera and transportation. In every business, there are costs associated with pretty much everything. So, take the time to identify the total cost of doing business as a photographer in your locale. You'll be surprised at how many factors you will need to consider.
Photography Pricing: Expenses

Every photographer has expenses that go beyond the photo session. Here is a list of costs to evaluate:
Photography Equipment costs. Such as:
Cameras and lenses
Stands
Cards
Bags/cases
Batteries
Lighting and light modifiers
Clamps, etc.
Post-Production Equipment costs. Such as:
Computers
Cables
Paper
Computer software
Printers and inks
Wacom tablets
Peripherals, etc.
Communication Equipment costs. Such as:
Phones
Mics and headphones
Notepads and pens
Fax
Paper
Internet
Speakers, etc.
Travel costs. Such as:
Food while on-assignment
Transportation
Hotel
Passports and permits/visas, etc.
Office/studio costs. Such as:
Rental or leasing costs associated with the space you work out of. If you work from home, give a rental value to the space so that your business pays for it.
Insurance, Accounting, and Legal fees. Such as:
Liability,
Taxes,
Damage insurance
Attorney fees, etc.
Marketing costs to promote your photography business. This includes costs to:
Network with clients
Exhibit your work
Take part in photography contests
Create a great portfolio website
Advertise
Undertake digital marketing activities.
Shipping and Packaging costs. These include:
Stamps
Boxes and envelopes
Tape
Delivery fees
Fulfillment fees
Membership fees, etc.
Costs associated with continuing education and maintenance. This includes:
Equipment maintenance
Gear/software upgrades
Health
Educational books
Workshops, etc.
If you're starting as a professional photographer, miscellaneous expenses tend to be hard to estimate. What can you do if you don't know the lifespan of your gear or how much marketing costs will increase within a year?
Try to get an idea of the total cost of goods so that you can figure out how much you will need to make to be a profitable photographer. For example, areas that have a higher cost of living bring higher expenses. However, your clients might earn more so you can charge more.
Be sure to give yourself a good salary and set aside a rainy day fund.
Photography Pricing: Pricing Your Time

Benjamin Franklin said – 'Time is money!' In addition to your operating costs, you must take a look at the value of the time you invest in each job. Sadly many professional photographers do not calculate the value of the effort and time they invest in an assignment. This results in a failure to earn adequately.
For example, when it comes to wedding photography pricing, one should account for the time spent in the following activities:
Traveling and meeting with the client
The actual shoot time
Setting up equipment
The post-production time.
A professional photographer needs to be realistic. So, be sure to charge for any delays and overages. A passionate photographer who enjoys his/her work may be disinclined to charge for some of these activities.
But, even if you are pursuing your photography dream, you still need to be business-minded. This means remembering that you play the roles of:
Professional photographer
Salesperson
Marketing expert
Customer service representative
In any company, there are costs associated with all of these job functions. It is only fair then, that you profit from these time-consuming roles. Just think, along with the actual photo taking, you'll spend hour after hour doing things like:
Administrative tasks
Working on your portfolio
Business Marketing
Maintaining your website
Pitching for new clients (New business functions)
Pre-production
Editing photos
And Communicating with current clients
Once you have established a basic per-hour price, you can build on that by adding in your operation and miscellaneous costs. This will give you your total price for the photo shoot. Then, carefully assess the number of photoshoots you may have per week or month and set final prices that help you profit from them.
Photography Pricing: Your Profit Margin And Taxes
The Profit Margin

You need to decide on your profit margin. This is dependent on the cost of goods, the cost of your time, labor, and your photography business expenditure. Your profit margin determines your take-home pay and will vary depending on how you price each project.
Taxes
When setting your photography pricing be sure to account for taxes. The tax percentage is determined by where you live. For example, in the U.S.A, there's a self-employment tax in addition to the standard income taxes.
Try to reserve at least 25-30% of your income for taxes. Your tax percentage will vary based on your business type. Typically, sole proprietors pay the highest percentage.
The Different Types of Photography
Most photographers tend to have a standard hourly rate, but, each type of photography comes with different requirements and costs. These influence photography pricing.
Standard photography rates range from at least $150 per hour to $500 per hour. Most photographers stipulate that clients pay for a package with a fixed number of hours per session. If the client does not use such a package they may end up paying a higher per hour rate. This is to make sure that a photographer doesn't work for a menial fee.
Each type of photography has unique requirements that you need to know. When choosing a specialization, consider how many projects you can reasonably handle per year. This will help you determine how to price your photography jobs.
Event Photography

An event photographer would need to charge a higher price. This is because event photography requires things like:
Special retouching software
Extra lighting gear for events
Multiple cameras
Expenses for travel and accommodation.
News Photography
A News Photographer would not have as high an equipment expenditure as an Event or Fashion Photographer would. So the price newspaper photographers charge would be significantly less.
Wedding Photography
Couples want extraordinary photos that stand out. They often make special requests. This enables a wedding photographer to benefit by creating packages tailored to the clients' needs.
While a wedding photographer can charge hourly rates of $150 to $250, it would be best to create packages ranging from $2,000 to $5,000. If you are a wedding photographer, keep in mind that work will come in seasonally. So, set prices to earn enough to keep you going during the offseason.
Portrait Photography

Portrait photography sessions are usually smaller in scope than weddings. A wedding can go up to eight hours or more. On the other hand, a portrait photography session may be as short as half an hour up to two hours.
For this reason, there is no benefit in charging an hourly rate. The better option is to set a flat photography price for packages ranging from $250 to $1,500. Of course, the photography pricing for group portraits would be more, while portraits for one person would be at the lower end.
Commercial Photography
Commercial photographers are often the highest-paid professional photographers in the industry. Most of these photographers can charge hundreds or thousands of dollars per hour.
They also make thousands of dollars from licensing their photos for commercial use. For this type of photography, day rates are separate from licensing fees. The day rate for such a professional photographer ranges from $800 to $5,000. While licensing fees can go from $250 to $10,000+
Real Estate Photography
Realtors tend to be price-conscious and unwilling to spend a lot of money. They are focused on keeping costs down. This is why for real estate, a tiered photography pricing model is most profitable. Real estate photography pricing rates range from $150 to $500.
Finding The Right Pricing Model For Your Photography Business

What is the right photography pricing model for your business?
The 'potential income' minus 'potential cost/expenditure' pricing model is an option. However, there are several other ways of employing value-based pricing that can help you make a handsome profit.
Choosing any of these pricing models will depend on what you think is the best fit for you. These include:
Hourly rate
An all-inclusive rate
Per-image pricing
Tiered packages
All-Inclusive Photography Rates
The most straightforward approach is to establish an all-inclusive rate per session. This method is for photographers who want to keep things simple and not engage too much in the sales aspect of the business.
How Does It Work?
Your clients pay a fixed sum that covers everything for the agreed time. For example, you could establish a fee of $4000 per wedding. This fee is fixed regardless of the duration of the event or traveling and other expenses. For 10 weddings, you would make $40,000 in revenues.
After subtracting necessary fees and expenses you'd end up with about 30-40% of the original amount. With this strategy, one would need to be sure to get enough photography sessions booked to be profitable.
To boost your profits try to include items that you can up-sell, such as case covers with your photos, wall prints, and albums. Sell them as "a la carte" items, meaning, each item goes for an additional price.
The disadvantages of this method are:
It's hard to charge clients more than your advertised price even when a higher price is needed
It is difficult to increase photography prices for returning customers even when inflation drives costs up.
This creates a dilemma for a professional photographer who uses this method. To earn more such a photographer will have to constantly try to expand his/her clientele.
There are only so many clients one can handle per week. Plus, the number of potential clients seeking out your specific services will be limited so you're bound to run out.
Tiered Package Pricing
The pricing model that is most popular among photographers today is the use of tiered photography packages. This is especially great for wedding and portrait photographers.
A photography package looks something like this:
A three-hour photoshoot with 20 pages of photo albums in the pack
If more hours are needed or 20 pages are too many, you can adjust the figures over time, based on clients' needs. With this method, you can charge extra if the client exceeds the hours within their chosen pack.
If you're a wedding photographer start by creating a few packages. Create a small wedding pack. Then a middle pack that you plan to promote as the most popular one- the one you would use all the time.
When setting up packages the trick is to throw in extras that don't increase your expenditure, effort, or time too much. For example, if you offer digital downloads in your smallest package, try adding black-and-white to the next tier up.
It's easy to come up with higher-priced photography packages by using add-ons such as:
Books
Calendars
Canvas prints, etc.
These give a premium look to your higher-priced packages but don't cost much to produce. This is advantageous as you end up earning much more without spending much more.
Per Hour Rate
This pricing model ensures you get paid for all the time you invest in shooting an event. Charging an hourly rate is standard practice for almost every type of photography. This enables one to get paid for any delays and overtime that may occur.
The disadvantage this poses for wedding photographers is that if a wedding is short they could suffer losses. Hence a package deal is the best for these photographers.
Per-hour rates are more beneficial for commercial photographers. This is because it's well-suited to their subject matter. Charging per hour or per item is also great for such photographers as their rates tend to be higher.
Don't forget that your final charge should include pre and post-production time as well. Such as for:
Travel
Client meetings
Preparation
Post-production photo editing etc.
Clients do not have a need or right to see your line-item expenses. But, in some cases, transparency could be beneficial, depending on the project or client.
Per-Image Price

Per-image pricing lessens the anxiety a client may feel when hiring a photographer. It eliminates the need for overage costs and gives the customer more control over the project budget.
Per image-based rates work well for product photography such as:
Interiors
Food
Architecture
Corporate portraits.
Per image-based rates are to be used when clients want a few images on their subject but expect extremely high caliber work. This benefits the photographer as prices are higher depending on what his/her photos will be used for.
Premium per image prices applies for photos that are used in more prominent campaigns. For example, the 'per image' rate will be higher if the photos are used for a television ad, billboard, or national campaign.
Why Does A Professional Photographer Cost So Much?

Photographs appear to be simple physical products. No wonder, many find it difficult to understand why product photography or a wedding package costs so much. The reality, though, is that a professional photo is the visible output of a great deal of time and hard work by the photographer.
A lot of effort goes into the process and a photographer's work does not start at the booked event. For example, you can't just show up at a pre-nuptial shoot and meet your clients there for the first time.
Much background work is involved from conceptualization to approval. Some of this background work includes:
Location scouting
Pre-production meetings
Post-production processing
This process of coordination and conceptualization is the key to producing beautiful images. This is why professional photographers charge for their on and off-camera time and expenses.
Additionally, a photographer invests a lot of cash in their portfolios and marketing to attract clients. And Photography equipment is expensive and must be upgraded regularly.
When approaching photography pricing you should consider:
The benefits that you bring to the table as a trained professional.
The cost and quality of your equipment
The proper pre and post-production work you provide.
The assurance you offer clients
And the experience that allows you to beautifully capture those once-in-a-lifetime moments.
Don't sell yourself short. Your skills allow you to create memories that last a lifetime for your clients.
Ending thoughts on this photography pricing guide
When it comes to pricing you need to understand how certain variables affect your photography prices. Your end goal is to make enough money to care for your needs.
To do that you need to acquire an understanding of your local market and identify the value that separates you from the competition. Then figure out your expenses and the right price that will help you make a handsome profit.
Be careful not to focus on competing with other photographers. There will always be photographers with lower or higher prices. The most successful photographers focus on building their brand and adjusting their prices as the need arises.
Get more bookings with the right tool for the job
Staying organized has never been easier.
You can now manage your business and grow your brand with a single, powerful WordPress booking plugin that keeps all of your appointments in line, your clients organized and your business booming.
Amelia is perfect for business owners who need to streamline their booking experience both for their staff and their clients.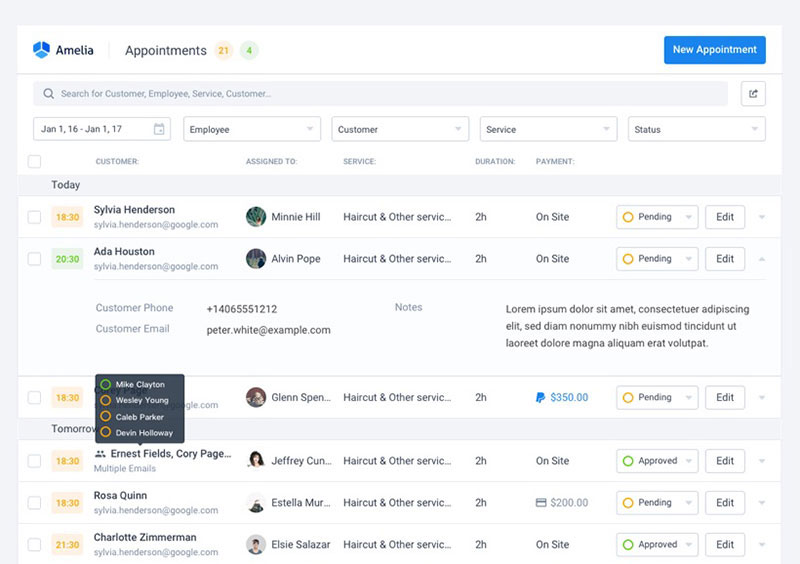 Amelia handles everything for you, even sending automated email or SMS reminders to your clients. No-shows? Not anymore!
The Amelia WordPress booking plugin adapts to different industries for a blissful online booking experience and employee management.
Want to know more? Check out Amelia's awesome features to see what you are missing.
If you enjoyed reading this article on photography pricing, you should check out this one with photography booking apps.
We also wrote about a few related subjects like how to set up online booking for photography on Facebook, how to get more photography clients, get more clients on Insta, the best appointment scheduling software, and top appointment reminder apps.