The fastest way to create a Zoom meeting is to call up people and hope they will immediately join. However, that's clearly not very practical in most situations and kind of a long shot. People are busy and expect some kind of organization.
We like to know at least a couple of hours beforehand, so we can schedule the meeting into our crowded agenda.
With Zoom, you can schedule a meeting by choosing the schedule calendar you prefer to use. This way you can organize your meeting with workable scheduled times, making everyone more comfortable, and giving everyone the chance to prepare.
Businesses and universities increasingly see the value of video conferences and online meetings. Whether it's in the office or working from home, Zoom closes the gap between the old way of working and the new.
This article created by our team at Amelia, the best WordPress appointment booking plugin with Zoom integration, is here to help.
Let's get the most out of this revolutionary application and learn how to schedule a Zoom meeting.
How to Schedule a Zoom Meeting 
It's not too complicated to schedule meetings and to send an invitation for contacts to join the meeting. However, there are different ways of going about this. And depending on which device you choose to invite them from, the process differs slightly.
Zoom meetings are possible on smartphones, tablets, and computers. Having these options is great, as sometimes, adjusting your approach when you schedule a meeting will be unavoidable.
Hosting and scheduling a meeting is possible on
the Zoom Website
your Zoom desktop app
your mobile app
How to Schedule a Zoom Meeting on the Zoom Website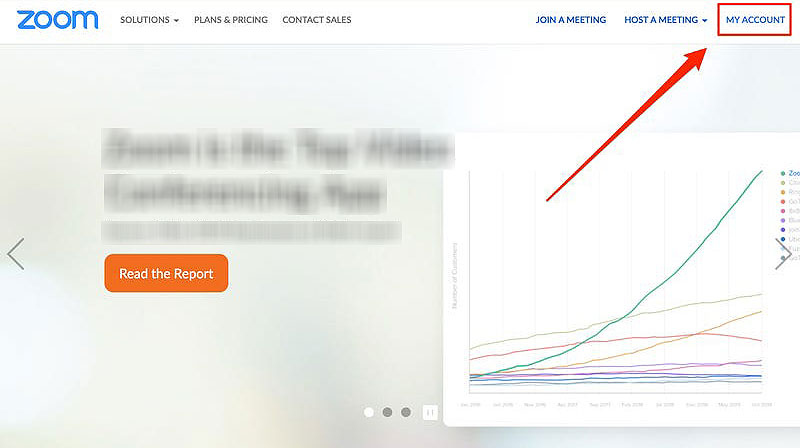 Without downloading anything, you can schedule a meeting on the Zoom homepage. Open zoom.us if you are in the US and go to your account details by clicking My Account in the upper right corner. If you don't have a Zoom account yet, create a new account first.
You will see a schedule button at the top. After clicking Schedule a Meeting, fill out the form.
On this form that looks like a calendar, you fill out your topic and give an optional description (what your scheduled meeting is going to be about).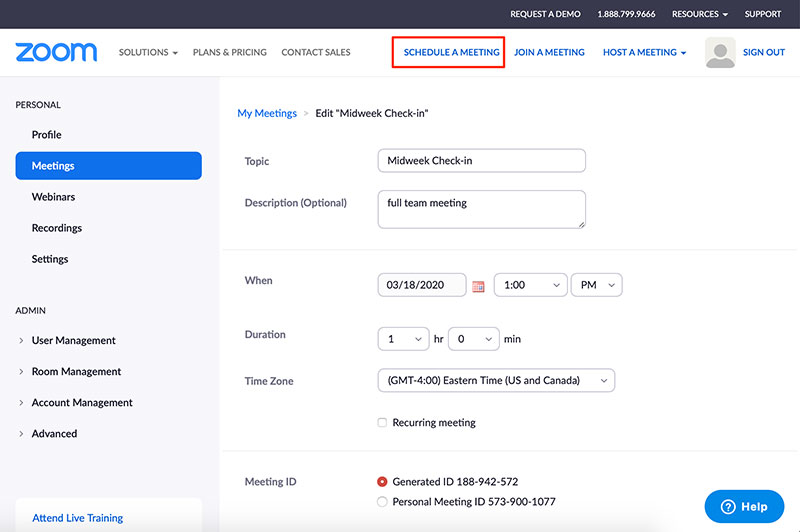 Set a date and time in the When
Determine the duration of the meeting (a maximum of 45 minutes if you use a free account), and choose your time zone.
If you plan to host a recurring meeting, select that too.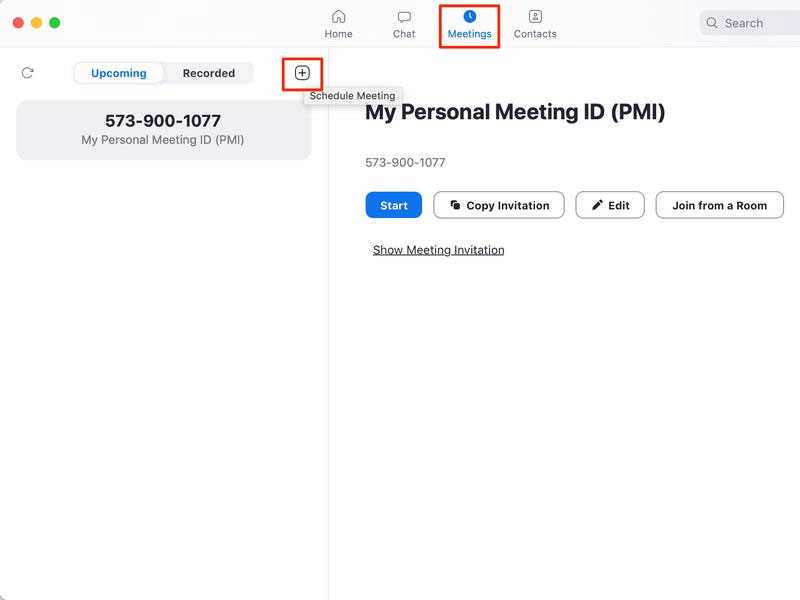 You will get a generated meeting ID. Click Copy Meeting Invitation. Then click the blue meeting invitation to copy the link and/or the entire text of the invitation to your clipboard from the pop-up window.
Save after you completed all details.
You will need the meeting ID or the meeting link for others to join the meeting.
There are two ways to invite attendees to your scheduled meetings
Use the calendar invitation option and create a calendar event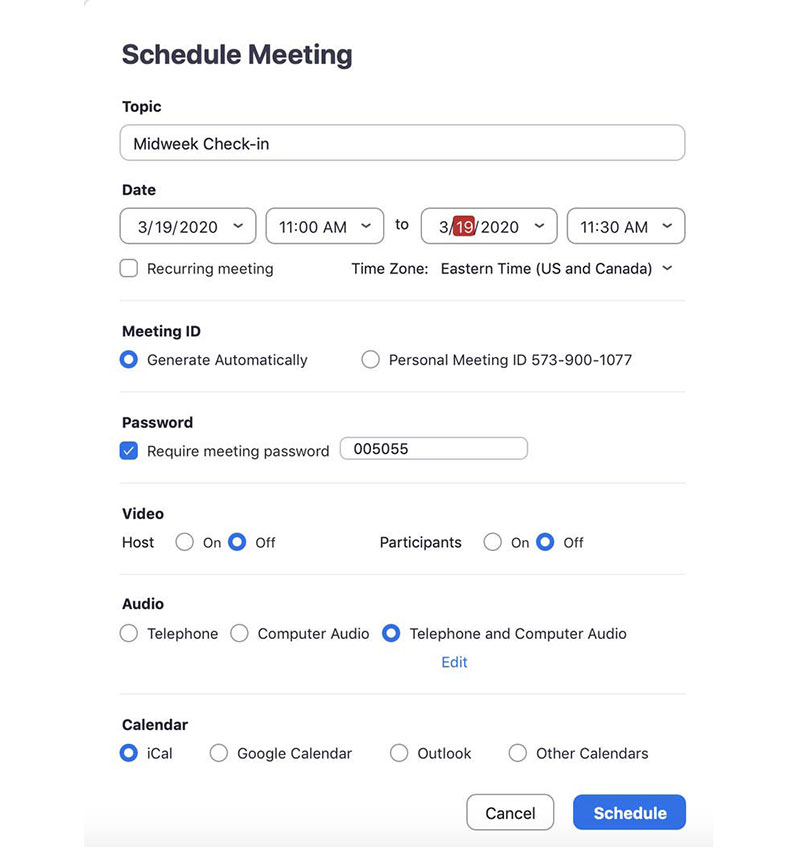 Next to When, in between the date and time boxes, you will see a calendar icon. You can choose what calendar you prefer to use.
Google Calendar is a fine option. Google Calendar is linked to Gmail and you can count on great Gmail support from the Gmail help center. Allow Zoom to access your Google Calendar. If your attendees have access to this calendar, they can now see that a time and date have been set for your scheduled meeting.
If for some reason you don't wish to use your Google Calendar, use the text of the invitation
Paste the entire text of the invitation you've copied to your clipboard when generating your meeting ID in step 6 into an email or a chat message to send to your attendees.
How to Schedule a Zoom Meeting Using the Zoom Desktop App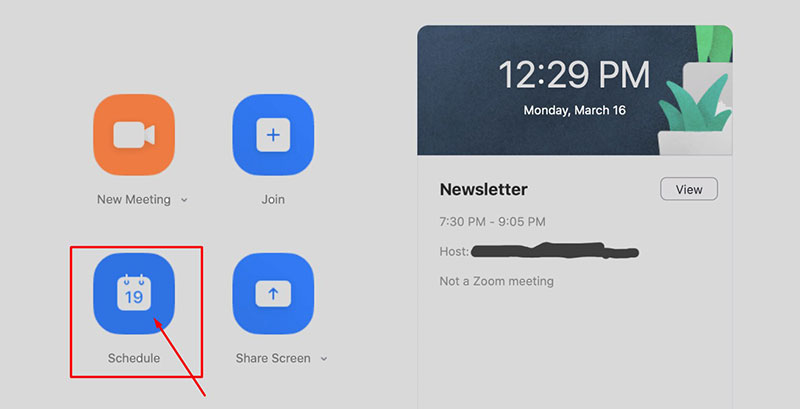 It's much easier for a meeting maker to schedule a Zoom meeting using the desktop app.
On top of the screen, click the Meetings tab.
You will see a tiny plus symbol.
Click the plus to schedule your new meeting.
You will see a pop-up that looks a lot like the website form.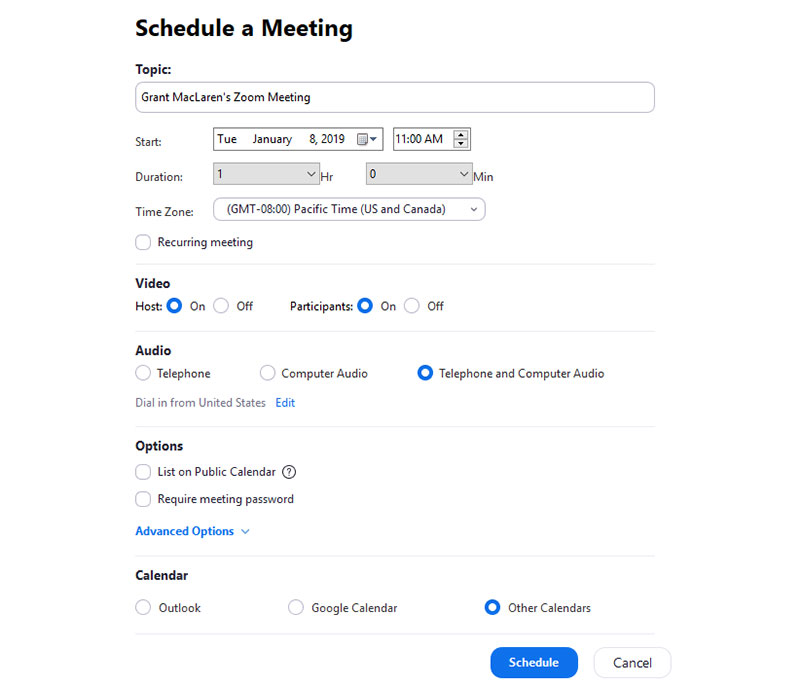 Follow the same procedure and fill out your meeting
Click the blue Schedule button to create the meeting.
Scheduled meetings move to the column on the left.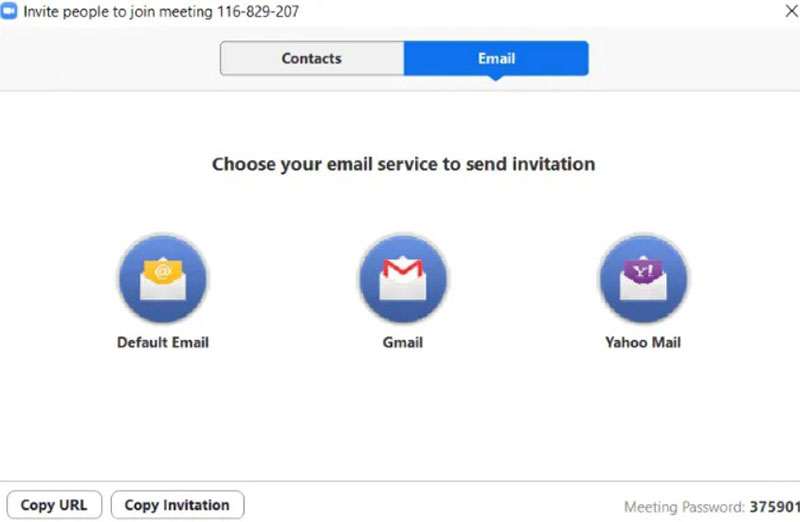 Once you scheduled your meeting, you can copy the link and paste it into an email, text message, or share it on social media. You can also use it for your calendar event.
You can also adjust scheduled meetings. For example, secure the meeting with a password to keep people away who don't have the join link.
How to Schedule a Zoom Meeting on Your Mobile App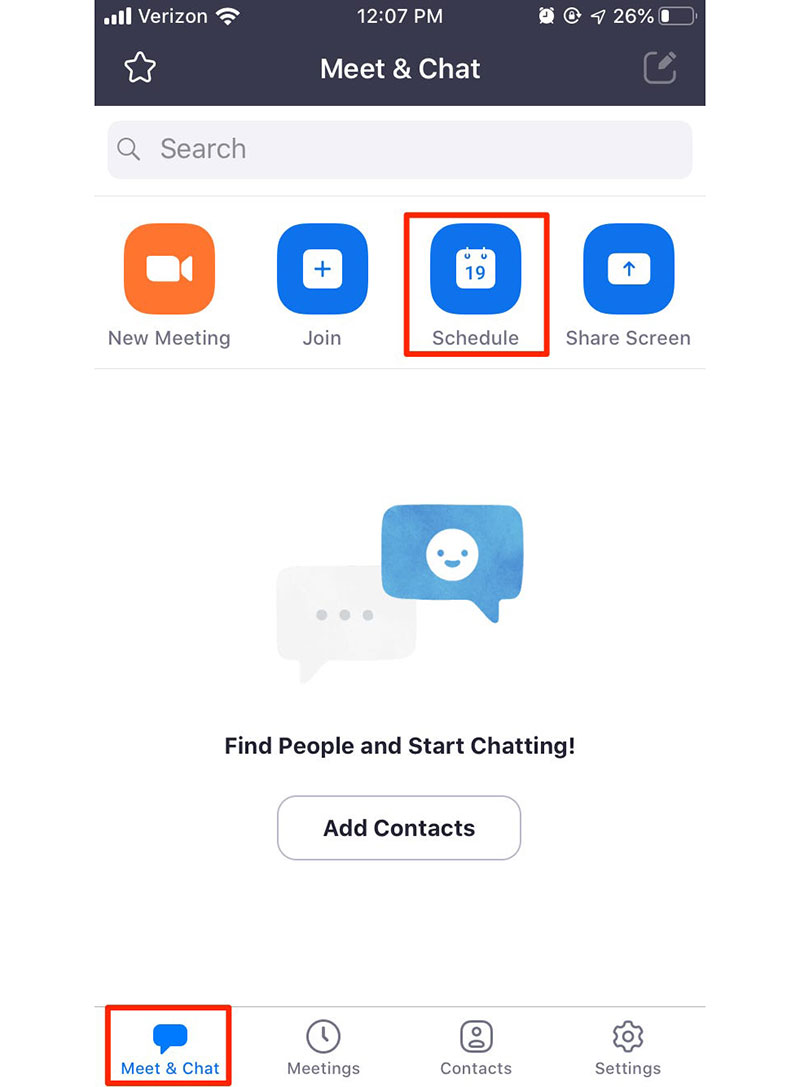 Open the Zoom app on your iPhone, iPad, or Android and go to Meet & Chat.
Click Schedule.
On the form to create a meeting, enter the name, the date and time, and if it will be a recurring meeting or not.
Once completed, Tap Done.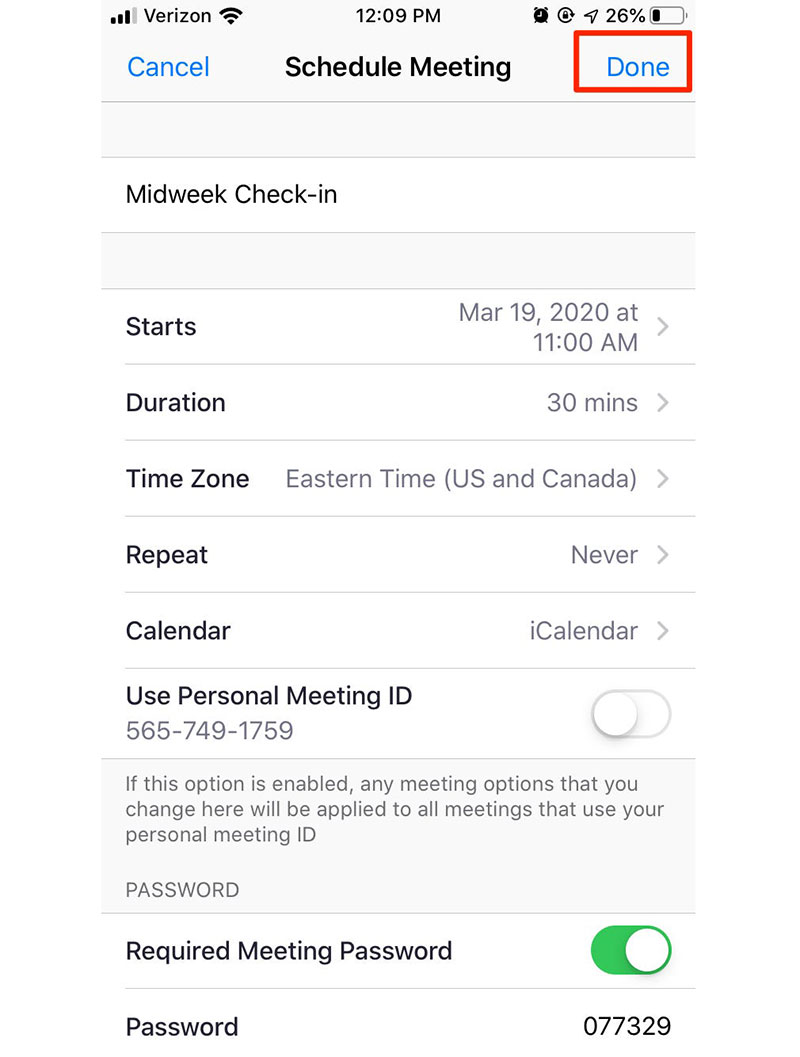 Another page (form) will open.
Here you can add your meeting to your mobile calendar and add attendees and contacts.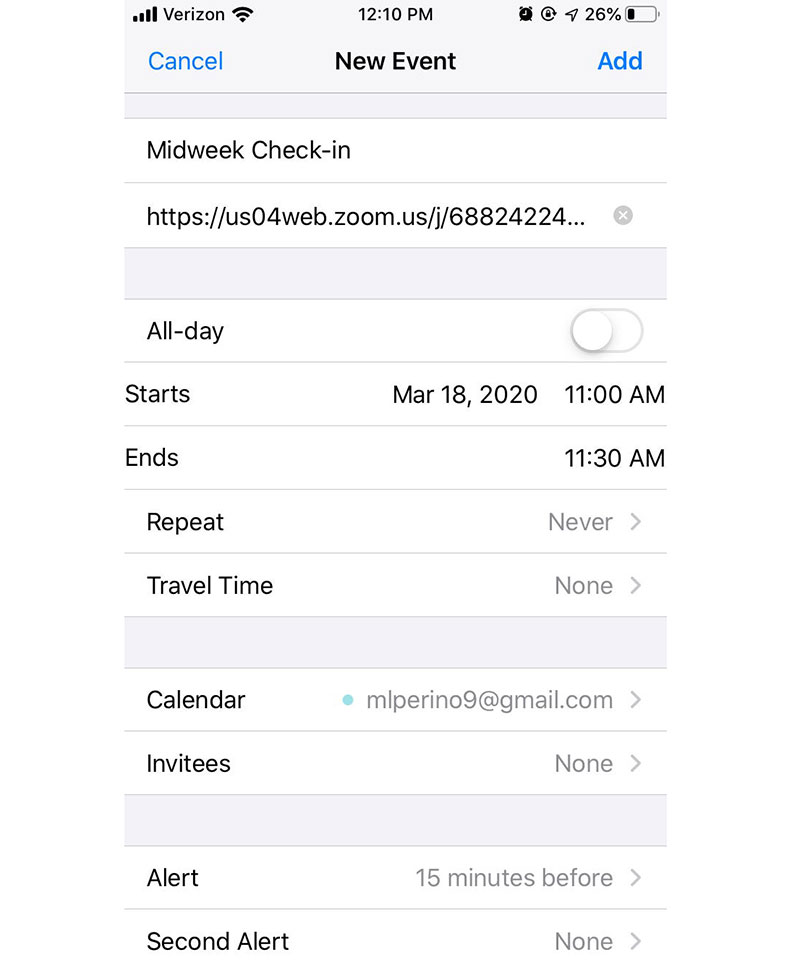 Tap OK if a pop-up asks to give Zoom access to your contacts.
Tap Done again.
On the Meetings tab, you can re-open your host schedule to add more attendees if you'd like.
In a pop-up menu, you can opt to send the invitation link via email or message. Or you can copy the invitation link to paste on your social media accounts, for example.
How to Invite People to a Meeting in Progress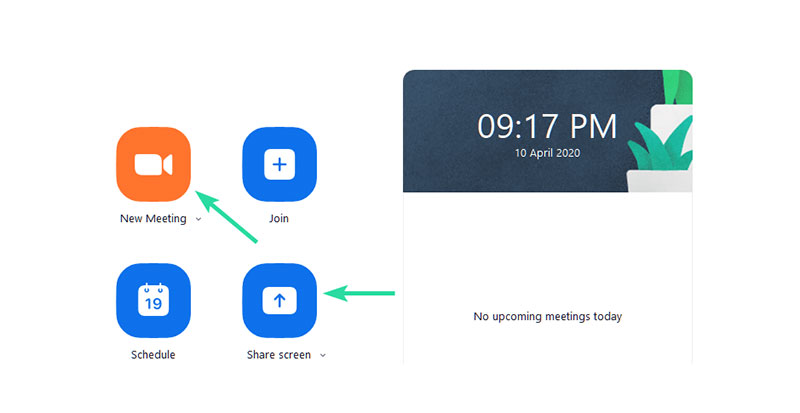 As promised, we will explain how you can invite people and contacts to ongoing meetings..
Use the orange New Meeting tab. You can find it on the left of the Schedule tab on the mobile app. On the desktop app, it's positioned right above the Schedule tab.
On your computer desktop app:
Click the orange New Meeting tab.
Click Manage Participants at the bottom of the live meeting video screen.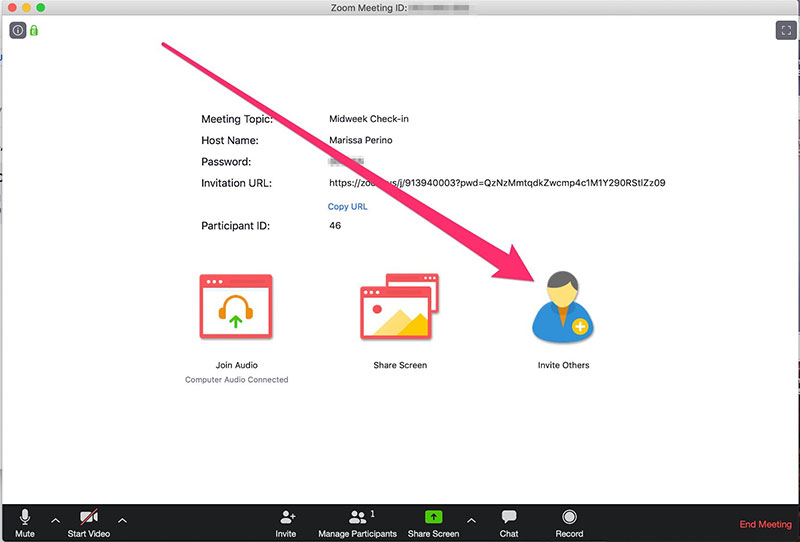 Click Invite Others (the blue fellow carrying his plus-badge on the chest).
The first tab on top of the pop-up provides the option to invite contacts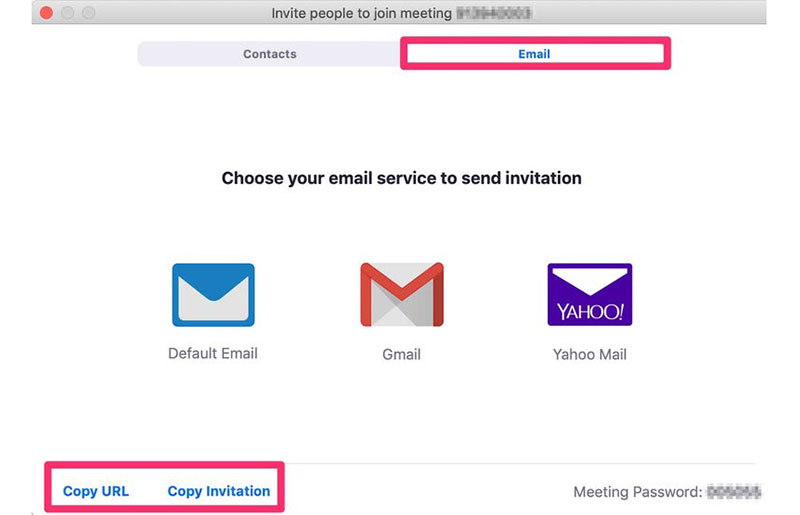 You can choose to send an email invitation or copy the invitation link instead
On your mobile app: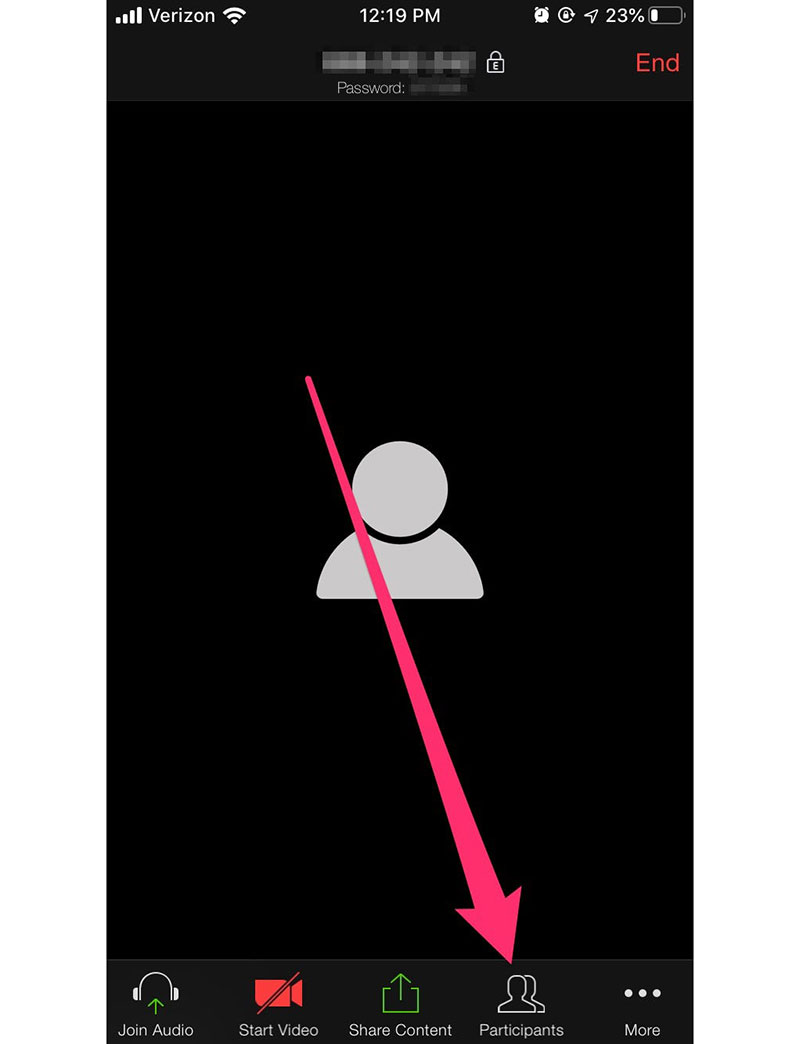 Click the orange New Meeting tab.
Tap participants after tapping the blue Start a Meeting tab. You can find this tab at the bottom of the video screen.
Now tap Invite.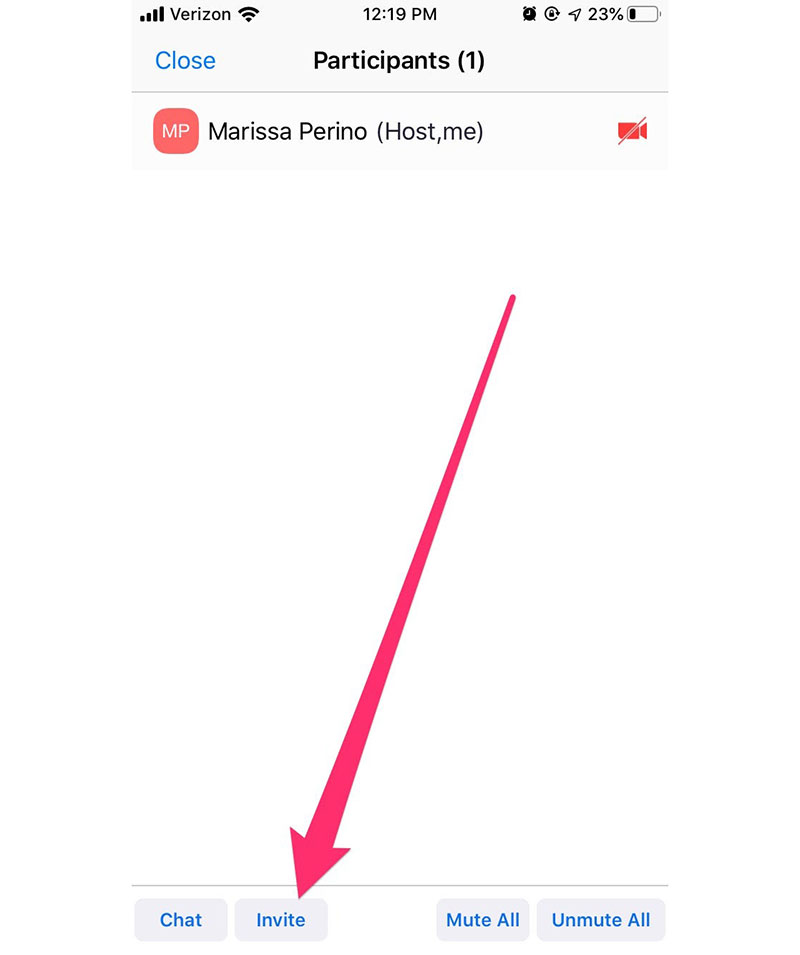 Invite contacts
Send the invite link through email or message
Copy the URL to the live call
So, why is it so important to know how to schedule a Zoom meeting?
Zoom is a web-based video conferencing tool with a local, desktop client and a mobile app that allows users to meet online. Zoom is at its best when hosts schedule their Zoom meetings and conference calls ahead of time.
As a host, you can record the meeting and create MP4 and M4A recordings during the meeting. You can enable optimization and sound transfer for video sharing. Everything you share through your desktop or mobile application is of very high quality.
Participants can collaborate on projects, share screens, and can speak to the group. Meetings just work better when everyone can be well prepared and has the time to show up.
All the more reasons to prepare your meetings well by scheduling them.
Happy scheduling!
Integrate Zoom for a Better Experience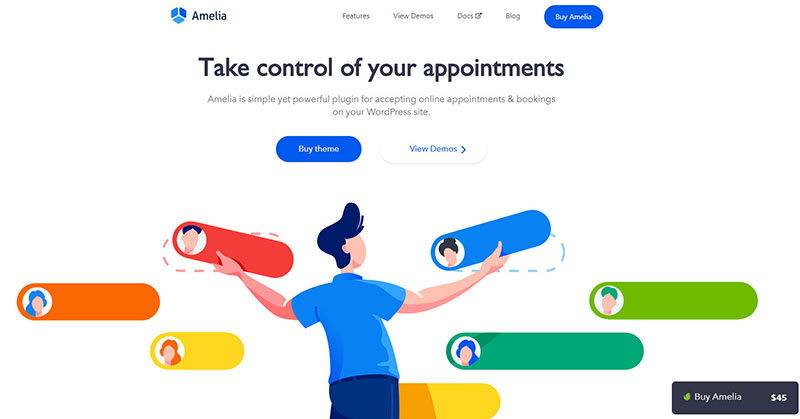 The Zoom app can offer you the basic features you need to work remotely in an efficient way. But for a better experience, integrating Zoom with other apps is of great help.
For more advanced options and smoother collaboration, most users install plugins. This is why we want to recommend you Amelia, a plugin created by us that will help Zoom perform better and assure great results.
Amelia can work together with Zoom on the appointment scheduling process. This gives you the possibility to manage your time efficiently while sharing it with different working teams. It is quite easy to integrate this plugin in Zoom and these are the steps that you have to follow: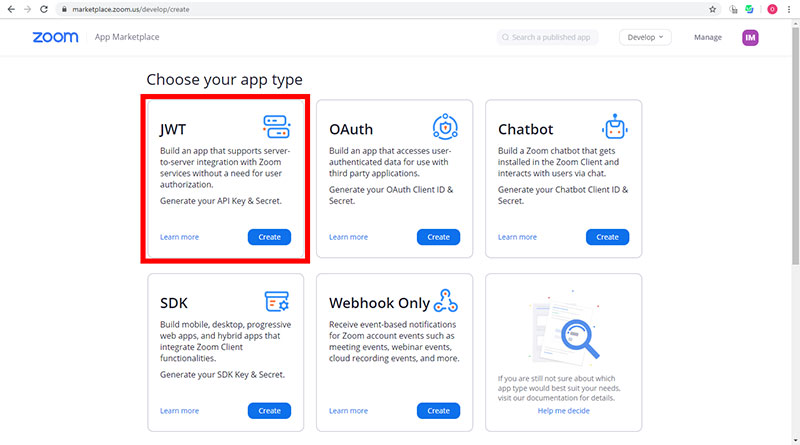 Log into your Zoom account
Access the Zoom Marketplace and create your application
Choose the first type of app – JWT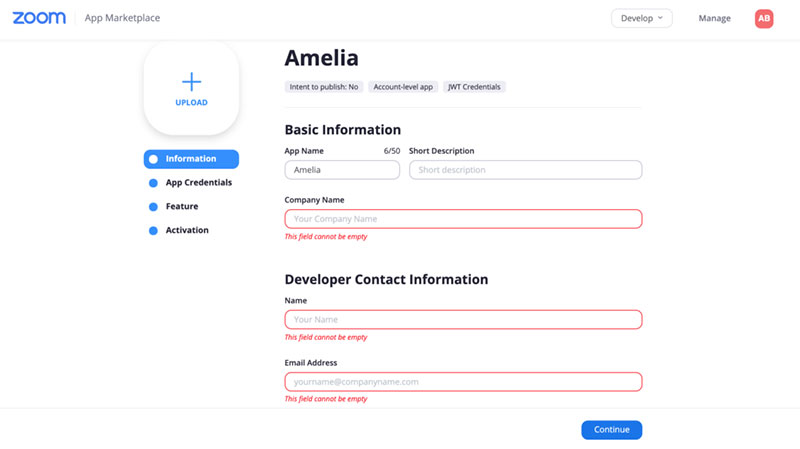 Complete with basic information and app credentials
Set Zoom options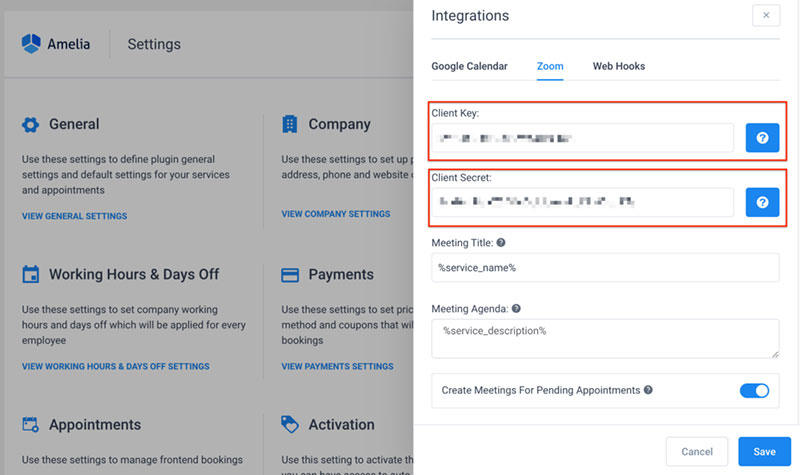 Invite your employees and help them connect with the app
If you enjoyed reading this article on how to schedule a Zoom meeting, you should check out this one about how to set up a Zoom waiting room.
We also wrote about a few related subjects like how does Zoom work, create a Zoom meeting, how to change your background on Zoom, how to record a Zoom meeting, Zoom integrations, Zoom keyboard shortcuts and how to add Zoom to Google Calendar.