Learn about five different ways of adding an online booking system to your website and the advantages and disadvantages of each of them.
Do you really need an online booking system?
In the era of digitalization, an online appointment scheduling system is a MUST.
Not only will it increase convenience for your customers with them not having to talk to anyone, but it will also benefit you, your team and your business.
Online booking means reduced workload and fewer mistakes – remember, machines don't get tired.
In addition,  it also presents more opportunities for scheduling appointments since more people could be doing it at the same time whereas you can only talk to one customer at once.
Today, there is a plethora of different technological options for doing this. But how to add an online booking system to your website? Furthermore, which method should you opt for?   
The fact is – all of them come with a certain number of pros and cons, and what you end up choosing will most likely depend on factors such as your budget, human resources, etc.
To help you weigh the pros and cons against these factors, we will thoroughly analyze these methods.
1. Link to an external website
Linking to an external website is the simplest method there is, although it in no way represents what would be called a true integration. The only thing that you have to do is create a link that will send your visitors to another destination.
Pros
It's cheap and easy to implement and that's the biggest advantage.
No special skills are needed to make this work. You don't have to have any web development skills to paste a link to your website. As such, it is very easy to execute.
It is also free. If you don't have the budget to pay for a well-functioning plugin, or a developer to program a custom piece of code, this might be the way to go.
Cons
However, since it is free and anyone can do it, it is only logical that it comes with quite a hefty list of disadvantages.
First of all, you are sending people off your website which is something most of us don't want to do.
You further risk losing the appointment altogether since the external website could be slow or have a poor user experience.
Moreover, your analysis and strategizing will suffer greatly since by sending people away, you will not be able to track them or learn about their behavior.
What pages they visit, what actions they perform and similar information which you could have utilized to better your processes will be much harder to come by.
Although not as important, especially when there is no budget in place, another disadvantage would be the different branding. Your visitors will have a hard time connecting your services to the external functionalities that you are using.

2. Embed an Iframe
Also known as an inline frame, Iframe is used for embedding an external website into your own. If you've ever tried to embed a YouTube video on your website, then you know what we're talking about.
Only a step higher on the 'true integration' scale in contrast to external linking, Iframe integration at least doesn't send visitors away from your website.
Pros
To execute Iframe integration, what you need to do is copy and paste an already prepared code into your website which makes it very easy to implement.
A budget isn't necessary as well, since most websites that allow embedding provide the code and the option for free.
Most importantly, since it's a window integrated into your page, the users stay on your website.
Cons
While integrated into your page, it is still third-party which means that you have no control over how it is displayed.
The issues that might come up from here are that with responsive sites, more often than not, iframe doesn't display correctly in a mobile context, unless the external booking system is also mobile.

Even worse, this has even led to some security breaches in the past.
In 2008, the websites of a few major news stations were hacked. The hackers added links to malicious websites which unsuspecting users would click on and then get their machines infected by malware – resulting in numerous problems.
Although many things have been standardized online, it is important to note that not all browsers may support iframes.
Iframes are also difficult to index by search engines. Even when they are indexed, the users are usually sent to the wrong page.
However, the biggest disadvantage is still the fact that you aren't able to track your users' activity and implement your branding.
3. Install a Plugin
Plugins are all but synonymous with the most popular CMS, WordPress. And with a good reason – there's a bunch of them, for a bunch of various purposes, all of which save valuable time and, sometimes, money.
Other popular CMS platforms such as Drupal and Joomla also have plugins which add more functionalities to the website.
That being said, they also come with some disadvantages.
Pros
First of all, it's very user-friendly and easy to set up. It usually takes a few clicks to get it up and running.
Moreover, it saves time and resources. You don't have to program it yourself or hire a web developer, it's already there, made, working, and left to you to integrate.
An online appointment scheduling plugin is excellent for small business owners because the competition is plenty, so there are very well-developed solutions on the market.
You can use a free plugin or get a yearly license for a premium plugin for the same price as hiring a developer for just 2 hours (a cheap one for that matter!).
And, in the age when all of us use different devices, they are usually optimized for all of them. So, whether someone tries to book something on their computer or cell phone, it will work just fine.
Cons
When installing one, you have to make sure that it's not outdated. Often, developers will make a plugin and then quit support and further updates – both very necessary with the ever-evolving technology.
Otherwise, outdated plugins could go as far as cause security issues.
Don't install too many, though. This could slow down your website. Or, even simply installing plugins by different developers could cause conflicts if they don't work well with each other.

4. Connect via API
CMS-driven websites most often provide the ability to integrate APIs or application programming interface, the closest that you can get to true and seamless integration of the online booking system besides developing custom code.
Pros
The biggest advantage of APIs is great user experience. External data is integrated into your websites and your users can use it as such, on your website. In addition, you have control of the user interface.
In contrast to some other methods, APIs also allow tracking data and user behavior which could just be the determining factor when you choose between these options.
Finally, they allow communication in both directions – your website can push, but also pull data instead of simply displaying it.
Cons
As was said before, it's the closest that you can get to true integration so it's only logical that it's very expensive. It requires development.
Continuous development, that is. You have to keep up with any changes that might be made to the external system. Otherwise, they could affect the overall functionality of your website.

Developers will have to adapt the API with time.
5. Develop your own Custom code
The king of integrations – a piece of code that is a part of your website, seamless.
However, various factors, such as the purpose of the functionality, the budget weighted against the pros and cons of these different methods is what will bring you to your decision.

Pros
As something developed within your website, custom code minimizes the issues of conflicting or bloated code or other issues that might arise when using other methods for the integration of online booking systems.
Furthermore, since it is your piece of code, custom developed for your website, you have control over absolutely everything.
Cons
However, it is important to note that this method is the most technical and as such the most expensive. It also takes the most time.
Finally, you have to maintain this piece of code which means that even when it's done, you will most likely have to spend more money and time on it.
So what is the best way to add an online booking system to a website?
The answer to this question is not straightforward, it will depend mainly on your CMS and budget.
If your website is built with drag and drop builders (Wix, Squarespace, etc) external links or iframes are your only options.
If your website is built on WordPress then well-developed plugins provide the best value for money, as you save on development costs and maintenance.
That is why we developed Amelia, a premium online appointment scheduling plugin that is built with best coding practices in mind packed in an easy-to-use and beautiful interface.
You can see it in action here and if you want more options check this list of best WordPress appointment plugins.
One of the first things a person has to do when starting a new website is the name of the domain. One must choose the blog names carefully because there is no changing them later; once you choose the domain name, it will be there forever.
So what do you do if you can't come up with a good name for your website? The solution is quite simple – you let the blog name generator create the name for you!
Finding the right title generator can make the naming process a lot easier. In addition to that, a company name generator can help you create catchy and easy to remember names that will match your brand in the best way possible.
Also, keep in mind that your URL and blog name should match if you want to make it as easy as possible for the readers to find and recognize your blog online.
So without further ado, let's talk some more about good names and hopefully, we'll help you choose the right domain name generator.
What is a blog name generator?

A cool name generator is a useful tool that will help you create a unique and memorable name for your blog.
The website name generator can:
Suggest a number of names based on the keywords you type in.
Check if the domains corresponding to the names are available or are already taken.
Often help you buy and register the name you want for your blog.
Why should I use a blog name generator?
There are many reasons why people use name generators. Whether you have run out of ideas or you simply want some new options to consider, a random website generator can help you with that. It will also ensure that the name of your choice hasn't already been taken.
Let's start by discussing two distinct types of blog names: keyword-based names vs brand based names.
Keyword Based Names
Keywords are a crucial part of your online presence. They are the phrases that people commonly use to search for things in their browsers. With that in mind, if you choose a name that matches a specific keyword, the users will find your blog more easily.
No matter the niche of your website, if you use a domain generator, make sure that the name matches the keywords that are commonly used. It might not seem like much, but it can get you a long way with the search engines.
That being said, you should also take into consideration the fact that there will be numerous similar names in the same niche which is not the best thing for a brand. After all, you want to stand out from the crowd, don't you?
Coined Words for Brand Names
A good title maker can come up with an entirely new word for your brand that will be easily recognizable and entirely unique. Many big brands have decided to take that road, for example, Google or Twitter. You can use a blog name generator and play with certain letters, initials, syllables, and similar to coin a new nice-sounding word.
Also, if the blog is about your life, you can use your own name. If, on the other hand, you already own a brand of any kind, you can use the same name for your new blog which will immediately attract your long-term customers.
Coming up with a brand-based name can be quite tricky, but if you do it right, you will get a name that is much better in the long haul for your business than a simple generic keyword bane.
The Generators

Bust a Name generator can help you come up with all kinds of names for your blog. It can serve you like a book title generator, a brand name generator, or even a funny name generator if that is what you are looking for.
It works great with keywords; all you have to do is filter the keywords of your choice, check the "ends" and "starts" option, and you will get a keyword-based name for your blog.
Once this English name generator offers you a variety of options, you can narrow the search by setting the number of characters you want to have. Bust a Name also lets you search for domains by their extensions: .com vs .net vs .org domain. If you don't know where to start, you will get a random domain option that you can use.

Nameboy is another random company name generator that works great with keywords. It allows you to enter two keywords and then lists a variety of available domain name options.
It also offers a great chart overview that will help you quickly determine which extensions are available for the domain name of your choice.
In addition to that, one of the cool Nameboy's features is the option to see the domain names that are up for resale. You can also search for suggestions and keywords that rhyme.

PickyDomains is a free naming service that is perfect for bloggers. With this blog name generator, you can pick your niche, audience, gals, market etc., and the large community of users will offer you a number of suggestions and ideas.
With a big community of bloggers like that, brainstorming and exchanging ideas is easier than ever. You will get solutions from experienced people and simply choose the one that best fits your needs.
However, keep in mind that if you want to get a recommended domain name, you will have to pay a $50 fee. Half of it will go to the person who created it while the other half will go to PickyDomains.

Domain Wheel is one of the handy name generators that work great with keywords. It will offer you a variety of blog name ideas and available domain options after you add the keyword of your choice. All you have to do is hit "search domain" and get the wheel spinning.

Wordoid is an amazing tool for creating all kinds of cool blog names; from travel blog names to lifestyle blog names. This name generator is based on phonetics and it coins the names that can't be found in the pages of a classic dictionary. Which is not a bad thing if you are looking to build a brand and searching for a name that immediately stands out from the crowd.
You have 5 choices to make in Wordoid:
Languages: You can select one or more languages and Wordoid will create new words based on those languages' rules.
Quality Level: There are 3 quality levels available in Wordoid; low, medium, and high. They will determine how similar or natural the words sound in relation to the selected language(s).
Pattern: You can either enter a short fragment or not include it by leaving that field blank. If you decide to leave the field blank, the name will be created randomly. If you enter the fragment, it will be included in the name and you can choose whether you want it to appear at the beginning, ending, or in the middle.
Wordoid Length: You can choose the length of the generated name and it can be anywhere between 5 and 15 letters. However, keep in mind that shorter names are often catchier and easier to remember.
Domain Names: You are given the choice of either showing or hiding the generated name with .net and .com names availability. By selecting "show", the site will show whether the name is available and where.

If you don't know how to name your blog, try using Name Mesh – a tool that will offer you a variety of suggestions based on your targeted words. You will get a number of different suggestions including the common short domains, fun names, SEO-focused names, mix suggestions etc.
Some of the best features of Name Mesh include:
Each domain is marked with either red for not available or green for available. You can also automatically hide the unavailable options.
Set a maximum character length for your blog name
Check the domain name's social availability on both Twitter and Facebook.
• Additional extensions such as .com, .co, .net and .io can be turned on or off.
Check the new generic top level domains (gtlds) that are generally available, for example, .link, .email, .domains etc.

With an online generator, you can create all kinds of names for all kinds of purposes. Best blog names, food blog names, cute blog names, cool blog names, clever blog names, and basically all other kinds of good blog names can be created with this creative business name generator.
The online generator serves many purposes; it can be the last name generator, a DND name generator, YouTube name generator, demon name generator, country name generator etc.
However, if naming a blog is what you want to do, you should head to the Codename Generator. This tool combines nouns, verbs, and adjectives using random algorithms. As a result, you will get a number of naming options, some of the suitable, some not suitable, and it will be up to you to choose the ones that you like.
You can keep hitting the button and generating new names for as long as you want and once you find the name you like, you can check its availability right away.
Ending thoughts on these blog name generator ideas
How to name a blog?
This question should not be taken lightly because once you choose the name for your blog, you will be stuck with it for as long as the blog exists. However, coming up with a blog name is not easy, especially if you want to create a unique name that immediately stands out from the crowd.
Luckily, the right blog name generator will offer you a number of blog name ideas in a matter of minutes. In this article, you might find just the one catchy website name generator you've been looking for.
The next step, though? Now you have to create a blog, promote it, and get visitors. Good luck!
We hope that you enjoyed this article created by our team at Amelia, probably the best appointment scheduling plugin for WordPress.
You should check out this one about WordPress calendar plugin options.
We also wrote about a few related subjects like how to create a WordPress booking system, booking plugins examples, alternatives to the Acuity scheduling WordPress plugin, alternatives to Easy Appointments, lawyer WordPress theme examples, barbershop websites, and WordPress schedule plugins.
It's pretty obvious that you need to be careful when setting up your salon pricing strategy. The competition is tough, and you need to understand the balance between the services you offer and the prices you set for them.
To do that, you have to study finances and business but simplified. Once you find that balance, both your clients and yourself will be pleased. You will obtain the profit you initially planned to win in the first place, and your clients will keep coming to your salon because of your quality, accessible salon services.
To make them conveniently accessible, check out Amelia, the best appointment scheduling plugin for WordPress – it can help you set a system that will enable your customers to choose a stylist, browse procedures and book a visit in advance.
You definitely need to get informed about the proper salon pricing strategies to get things right. It might take some time, but pricing is one of the most important details about your business, so it is surely worth all the trouble. You don't want to set your prices wrong from the very beginning, as the mistake will be difficult to correct in time.
What are the first steps?

First of all, you need to ensure that you know how much your salon services are worth. Setting the prices right is all about avoiding under or overcharging them. A price that is too high or low can send your salon to the bottom in an instant. This is why you need to follow these few steps when choosing your salon pricing sheet:
Assess your services
Start analyzing the products and services you offer to your clients and set each price individually. You don't have to be a math genius to put together a price list, but you need to do some research.
Once you set your initial pricing list, you might want to apply a financial formula for eventual discounts or other modifications that the prices will suffer in the future.
Build your brand
Your brand is highly important when it comes to pricing strategies. People won't pay a huge price for a brand that they don't recognize, so you have to start getting the word out about your salon.
The products you use, the professional employees you hired, and the numerous satisfied clients that you already have should be the elements you focus on to build a strong brand for your hair salon. Then, you can get the prices up.
Sell the experience, not the service
Never focus on the services alone. You need to convince the client that your hair salon is the only one that can offer them such an experience.
To do that, make sure you hire a professional team to take photographs of your salon, products, and overall experience during work hours. Then, promote the services by giving people some insight into what you sell.
Customer loyalty is the goal
The more loyal the customers, the more you can raise the prices. Repeat business should be your main focus, considering that you own a salon.
Invest in business cards or booking apps to help clients make an appointment easier and remember your salon. Promotional cards and email campaigns will do the job as well.
Get partners
If your salon is not that popular, but you know some that are popular enough so that clients can trust them, you can seek a partnership.
At first, this is a good strategy to advertise your brand. You can also get partners in other industries than yours, such as a gym or a community center. Getting "in bed" with other salon owners might be a double-edged sword.
Leave discounts for later
When you are at the beginning of your journey, you can't afford to offer discounts. Remove the discounts, for now, sell your hair salon services at their full price and – once your hair salon gets profitable – you can start offering discounts when you notice that your sales went down.
Don't ever undercharge
Even though you might not think that your nails or hair salon is valuable at the moment, it is just a perception that will modify in time.
Don't undercharge your services just because you think your salon is not good enough.
Check the competition and see how their pricing list looks like. For instance, look at the pricing strategy that your competitors have or the average hair salon prices in your area.
Simplify it as much as you can

Many salon owners tend to go over their heads with the pricing list. No – you need to keep everything as simplified as possible. Keep the list of your services clean and the prices even cleaner.
Have you ever seen a hair salon pricing menu? It has a lot of choices anyway, so why make it even more complicated?
Try to list the services in the easiest way possible. Both your employees and your customers will thank you for it in the long run. When your team charges clients for a service, they want to have clear options to choose from, not a variety of services that are similar in too many ways. Of course, you need to keep your services diverse, but not extremely similar and differently priced, as many salons tend to do.
Keep in mind that the price list is the first thing you have to consider when launching a salon. If you ruin your reputation with a faulty price scheme, you will regain it through tremendous efforts.
Key factors that can affect the prices of your services

What can affect how expensive or cheap your services are?
Growing loyalty
As mentioned before, making your clients come back to your salon only is a high-end move. Try to please your clients and the profits of your salon will be maximized shortly.
Promoting the smart way
You don't need to invest a fortune to get your salon promoted. You can include specific offers in your pricing scheme.
For instance, if a customer purchases a cosmetic product from your salon, they get a discount on the service. This way, you promote what your salon has to offer without an additional budget dedicated to it.
Add-on services
Besides the haircut prices, you might want to think about complementary services as well. Add deluxe packages to the services that you already have on your list. Massages or exfoliation are just some of the add-on services that clients often choose. For a small effort and a little product usage, you can charge customers more.
Shifts and workload
Consider the fact that people make salon appointments during the weekend or in the afternoon, so try to accommodate the demand using shifts.
This way, you can pay your employees efficiently and not spend more than you can handle on salaries.
Timing is key
Finally, you should think about adding offers based on the schedule of the salon.
Since workload isn't properly distributed in salons, you might want to add promotions during the off-peak time, so customers are encouraged to come, even when your salon is not usually booked.
Tips you should keep in mind at all times

You can't set your prices right without considering these:
Realistic prices
Use a salon pricing template to stick with a pattern when setting prices for your products and services. A realistic price means that you are aware of the direction of your salon, the expenses you face, the resources you have, and the financial goals you want to reach.
Don't set prices the same as your competition because that won't encourage clients to choose yours over others. Come up with your own realistic pricing structure.
Covering the spending
You can't charge less than you consume. The costs associated with your services must be visibly lower than your profit to call it a successful pricing strategy. Analyze how much money you spend during a week and set the prices accordingly.
Learn what inflation is
Each country faces inflation at some point, so try to keep up with the latest news in terms of the economy. During inflation, the costs of the products you need to run your services may rise which means you need to adjust the prices too.
Value the time resource
Sometimes, the cost of your services must focus on how much time and effort is involved in it.
Your time is the most valuable resource you possess, and you clearly don't want to invest it all in your business. Your hair salon pricing list must include the effort you put in as well.
You can price low
Pricing low is not a mistake, as long as you do it the smart way. New entrants in the beauty industry can opt for this strategy until they gain a reputation.
Penetrating the market with a low pricing list is a common strategy, but it might have repercussions in the long run.
Once clients are accustomed to your salon's low prices, when you are going to raise them to the point they are profitable, you will have lost most part of your clients.
Holiday pricing
Take advantage of holidays, the birthdays of your loyal customers, seasonal specials, and so on. These are days when you can increase sales visibly by offering appropriate discounts in the form of percentage deductions or even free add-on services.
Discounts
Be careful about discounts, though. Offering discounts is a good strategy to stimulate demand, but you need to use them with caution and limitation. Avoid offering discounts throughout the whole year and stick to the calendar religiously.
Raises
It is quite sure that you will have to raise the price of your services at a certain point in your career, but you will need to do it with care. Try to keep the price rise as minimal and unobservable as possible.
Company worth
Start putting together the costs of keeping your salon running.
Is it profitable? What do numbers say?
Do this as often as possible to know what decision to make next.
Will your prices go down or up in the next few months? Your salon's worth will answer all these questions.
Communication matters too
Communication skills might be a game-changer. Be careful with your brand presence and the way you deal with customers. Explaining your actions should be your number one priority but avoid apologizing. Instead, provide your clients with valid explanations all the time. Thank your clients for selecting your salon and don't forget to praise your employees at all times, to encourage productivity within the salon.
Always stay open to discussion, both with your customers and your staff. No matter what the problem is, communication will surely solve the issue rapidly. Take your time to find resolutions to all obstacles that appear in your way.
And that's about it when it comes to pricing strategies for your products and services.
Ending thoughts on salon pricing strategies
As you may have noticed, pricing is not as easy as it seems. It requires skills, patience, and a lot of research.
Your salon's pricing list will determine how profitable your business will be in the next financial year, which means it will directly affect your life.
Apply the pricing tips you found here, and you will grow your revenue.
Get more clients with the right tool for the job
Staying organized has never been easier.
You can now manage your business and grow your brand with a single, powerful software that keeps all of your appointments in line, your clients organized and your business booming.
Amelia is perfect for business owners who need to streamline their booking experience both for their staff and their clients.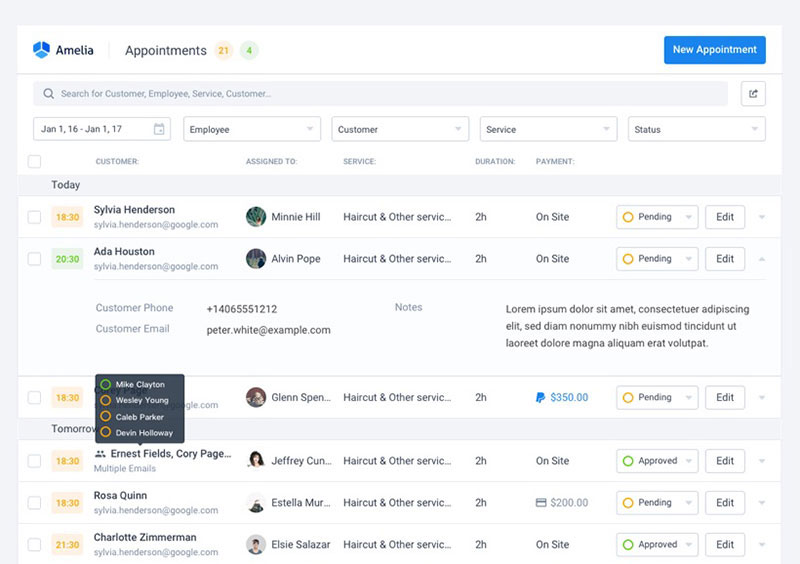 Amelia handles everything for you, even sending automated email or SMS reminders to your clients. No-shows? Not anymore!
The Amelia WordPress booking plugin adapts to different industries for a blissful online booking experience and employee management.
Want to know more? Check out Amelia's awesome features to see what you are missing.
If you enjoyed reading this article about salon pricing, you should check out this article with the best salon booking apps.
We also wrote about a few related subjects like hair salon websites, hair salon names, how to upsell salon services, beauty salon names, salon bookers, salon promotion ideas, how to open a hair salon, how to open a spa, salon management, spa websites, spa advertisements, spa scheduling software, spa WordPress themes, and salon booking systems.
Paul Rand once said: "Design is so simple. That's why it is so complicated." And he was right. That is exactly one needs a great UX designer portfolio.
You might have already mastered all the UX design techniques and skills, but the question remains how you can demonstrate all your knowledge to potential clients. Experienced UX designers know that a flawless methodology and problem-solving proficiency have to be put on the spot. The easiest way to do that is by designing a UX designer portfolio.
The best portfolio websites for UX designers don't show off what the designers can do. Instead, they focus on the process and illustrate the process of using design to solve people's problems.
A UX portfolio can focus on the overall UX design or on one of its many fields and roles such as UX researcher, interaction designer, experience strategist, or information architect, and experience strategist. All of these roles are equally important and contribute in their own unique way to the design.
Table of Contents
Portfolio Questions Every UX Designer Has to Answer
– What Type of UX Designer Am I?
– What Do I Do in the Field of UX Design?
– What Are My Relevant UX-related Skills?
– How Do I Want to Use My UX Design Skills?
Show and Tell – Practical Design Tips for UX Portfolios
– Present the Design Process with Visual Simplicity
– Write Clear Project Summaries to Engage Portfolio Visitors
– Showcase Your Ability to Collaborate with Others
– Include ONLY Your Best Work
– Build Trust with Stakeholder Testimonials
Free Online Portfolio Websites To Create Perfect UX/UI Design Portfolios
Portfolio Questions Every UX Designer Has to Answer
There is a specific set of questions that every UX design portfolio should answer. When creating their UX portfolios, the designers should not try to present all of their work in one place. Instead, they should focus on the skills they possess, the process they use, and the kinds of projects they specialize in.
They should choose the projects that are recent, specific, and outstanding. The best UX portfolios present those projects as a process which means including the UX design steps from beginning to end.
That being said, every designer portfolio should answer a set of specific questions that the clients want to know the answers to.
When it comes to creating the best UX design portfolios, those questions are:
What Type of UX Designer Am I?

You might have worked on a lot of different projects in the past. You might have had several job titles and you even might have been mislabeled by them. However, when you decide to design portfolios, it's time to take a step back and look at the bigger picture.
Evaluate your skills, what you do, and how you do it. Uncover the patterns that are the foundation of your own way of problem-solving and build your UX designer identity. Then, of course, build your UI designer portfolio around that.
If you still aren't sure how to get to the right answer to this question, here are some minor questions that might help you:
What are the recurring steps of my UX design process?
What methods do I use to conduct research, and what do I do with my findings?
Are there problem-solving approaches that I value above others?
How did I arrive at this point in my UX design career and what kind of relevant experience do I really have?
*Pro-tip: When you know the answers to all of these questions, try to summarize them in a single sentence and display it on your UX design portfolio homepage.
What Do I Do in the Field of UX Design?
Once you know exactly how your problem-solving process works, you should try and focus on the specifics of your UX designer identity.
Start by asking yourself these questions:
Am I a UX researcher or designer?
Am I a UX generalist? Can I switch between UX research and design easily?
Am I a specialist? Is there a specific UX research or design task that I excel at that I should focus on?
Do my skills reach into UI design and visual design?
Do I have the ability, experience, and desire to manage a team of UX professionals?
Once you answer these questions, it will be easier for you to determine which projects to include in your UX designer website.
For example, if you see yourself as an interaction designer, your portfolio designs probably shouldn't be built around the projects in the niche of ethnographic research.
What Are My Relevant UX-related Skills?

The best UX designer portfolio isn't the one with a huge list of your relevant skills. It turns out that the visitors care very little about that.
If you really want to promote your UX design skills and abilities, you should do it by presenting the methods you use, the problems you have solved, and the overall design process. Let your projects be the lens through which you will put your strongest skills in the spotlight.
Start by asking yourself the following questions:
What did I contribute to this project at each phase in the UX design process?
What tools and techniques did I use to make these contributions?
Did I create or help implement a strategy that had a major impact on the end product?
Was I involved in early client talks or crafting the project proposal?
Were there any major obstacles that required me to perform tasks outside of my normal area of expertise?
Don't sell yourself short, but don't oversell your skills either. Try to objectively evaluate your involvement in the past projects and focus on your contribution.
*Pro-tip: Some UX designers include a "Skills Used" summary for the projects they include in their UI designer portfolios. If you want to do this, keep in mind that listing too many skills isn't as effective as highlighting the most important ones that fit within the overall framework of your UX design process.
How Do I Want to Use My UX Design Skills?
Envisioning the desired career path can be a difficult thing for a young UX designer. However, with each successful project, the idea becomes clearer. It is only a matter of experience for a designer to decide which path to take – and then include it in their best portfolio sites.
Through the UX designer portfolio examples that you decide to include in the design, you should tell your own UX designer story. Let the clients know about the kinds of projects and people you like to work with, as well as the industry you feel most comfortable with.
For example, if you a specific goal of becoming a user researcher for digital products that impact the world of collegiate sports, your portfolio should make it clear.
If you still aren't sure where you stand on that, ask yourself the following question:
What are the top two industries I'd like to work in?
Do I have projects or past experience that will help me land a job in my preferred industry?
What kind of working pace do I enjoy? Am I ok with long hours?
Do I want to freelance? Work with startups? Land a corporate career?
Is there an organization or cause that I want my work to impact?
How much do I want to be paid?
Where do I want to live? Do I want to work remotely?
It's not easy to have clear answers to all these questions, but once you do, it will be much easier to focus on a clear goal. Take all these things into consideration and plan a UX career that aligns with your ambitions.
Show and Tell – Practical Design Tips for UX Portfolios
Good UX designer portfolio websites occupy the visitors' attention. The best design portfolios, on the other hand, take advantage of every single pixel on the site to present the designer's work in the best way.
One thing to always keep in mind is that you have to create a top-notch user experience. You are a designer and now you are designing your own website – and it has to be one of the best design portfolio websites you have ever seen.
Everything about your UX design portfolio has to say that you are an outstanding designer. With that in mind, portfolios like professional projects, and incorporate the following design tips:
Create Case Studies to Present your Design Process

Everybody loves a great UX case study, so why not create case studies for the clients you've worked with.
Present your User Experience process in a clean and simple way. This includes sketches, wireframes, user journey maps, prototypes, and more.
Avoid using complicated animations or unconventional page layouts because they can distract visitors from your work.
It's ok to show glamour shots of a final product, but keep in mind that the story behind the product is much more important. The clients want to understand the process that helped you get to the final products rather than just seeing the product itself.
High-Level Summaries to Engage Portfolio Visitors

Write a clear summary of each project in your UX designer portfolio.
Define the problem and present various solutions that were explored.
Project summaries' purpose is to explain in a simple manner how you delivered beneficial results.
Showcase Your Ability to Collaborate with Others
It is useful to present examples of work where you worked well with other design and development professionals.
Highlight your experience working with C-Suite (if you have any)
If you've managed a product team or a group of remote workers, make note of it.
Include ONLY Your Best Work

Take a good look at your work and discard everything that is less than excellent
Self-editing can be very hard when you are a creative professional, but keep in mind that the visitors don't need or want to see every project you've ever completed.
Include the recent projects because your working style has probably changed over the years
Show your best, and make sure there isn't anything that contradicts your normal UX design process.
Build Trust with Stakeholder Testimonials
One of the most useful things for designers to include in their UI designer portfolio is the stakeholder testimonials. A short 1-2 sentence testimonial can get you a long way as it inspires trust in potential If possible, include a headshot in every testimonial to gain additional credibility.
Keep in mind that the testimonials you use have to be relevant to the kind of UX clients you want to attract.
Best UX Design Portfolio Ideas for Your Inspiration
Back in the day, having a simple resume was all it took to attract new clients. However, with the evolution of technology and with more and more people working online, every creative professional can benefit from having a cool portfolio website.
In recent years, UX design portfolios have played a key role for the designers in attracting new clients and applying for jobs. But where do you start and how do you create an outstanding UI UX designer portfolio? Let's take a look at some of the best examples:

Alexander is a full-stack product designer with years of experience in visual and interaction design, capable of crafting world-class products from scratch. He leads the design of software products and platforms that are used and loved by millions worldwide.

This is another great example of a UX design portfolio. Adithya is a software engineer turned digital experience designer.

She is a product designer who combines the user-centric approach with strong and appealing visual designs to create a delightful and consistent experience.

Sahil is a student at Cornell, previously a product design intern at Instagram.


Take a look at this UX design portfolio. Yannick is a Kleiner Perkins Design Fellow and a current Product Design Intern @ Nextdoor.

Matt is a UI/UX Designer at TTI. He loves designing and tacos.

Senior product designer with over 6 years of experience in digital design. Highly versatile with the ability to develop ideas and concepts into effective and practical design solutions.

Tiffany Wu is a UX Designer passionate about bridging gaps between people and their goals.

A product designer who blends strategy and design to create products and brands that are viable and desirable.

Sara is a digital product designer. She is currently completing her senior year at Northeastern University. Check out her UX design portfolio.

Rosa is a UX/UI Designer merging digital + spatial design based in Toronto.

Niya is a freelance UX designer based in Washington, DC. She has a passion for creating user experiences that are seamless and impactful.

Nayoung Heo (Na) is a visual designer from the Bay Area, California. She is a recent graduate of the School of the Art Institute of Chicago and currently works as a designer at Digital Kitchen. Her designs are characterized as complex, systematic, and playful.

Michael is a visual and interaction designer. He appreciates the moments when technology and design sing in harmony. His UX designer portfolio is colorful and attention-grabbing.

Matthew is a Visual Communication Design and Informatics student at UW Seattle.

Like is a designer based in Auckland, New Zealand. His practice is driven by the intersection of pure graphic design and its application to digital mediums.

Luciano is a newbie UX Designer currently majoring in Economics at USP. He is a self-taught designer with infinite curiosity.

Next up, the UX designer portfolio from an Interaction Designer and Illustrator from San Francisco. She just completed her Interaction Design Residency at Y Combinator Research. Previously, a design and a social entrepreneur at Konspire and Banana House.

Specializing in UX and Visual Design, she partners with strategic teams to turn challenges into sustainable user-centric solutions that elevate brand experiences.

Julia Chen is a Product Designer in SF. Currently designing a more inclusive and adaptive way to learn at Cerego.

Jingwen hopes to bring more desirable technology experiences to end-users and create value for organizations. She studied industrial design at Tongji University in Shanghai and dug deeper into design research and strategy at IIT Institute of Design in Chicago. 

Jess is currently employed as a software engineer in PayPal.

He is a product designer passionate about serving people by solving their needs and understanding the gravity of those decisions as they impact our world.

Hyewon is an impact-driven designer who cares about designing efficient and enjoyable products for users. Most recently, she was a UX Design intern at Google and had an amazing time building innovative features for enterprise customers.

Tim is a versatile designer who loves to build identities, websites, & visual experiences.

Marko is a   Copenhagen-based designer specialized in branding, web design, and creative consulting. My goal is to help brands build authenticity, clarity, and purpose through design.


Hiroo Aoyama is an incoming product design intern at Facebook.


Hau Yuan is a UX Design Intern at Google.

Designer with a big heart for innovation and a delicate mind of craftspersonship. He is currently working at Michigan Medicine as a UX Designer for the Research Application and Advanced Computing unit. He will join the Next Generation Commerce team at PayPal as a full-time Product Designer in 2019.

Designer and a leader building design systems, digital products, and intelligent experiences to guide brands into a customer-centric future.
Free Online Portfolio Websites to Create the Perfect UX/UI Design Portfolios

Behance is an open-source website used by millions of UX/UI designers who want to easily create great portfolio websites. Behance is intuitive and easy to use and it is one of the favorite websites for creating the best portfolios.
It is equally popular among UX designers, artists, photographers, as well as the interviewers, recruiters, and hiring managers searching for new talents. Some of the best UX portfolios have been created thanks to Behance.

Dribbble is another free online portfolio website popular among UX/UI designers and in many ways, it is similar to Behance.
With this website, you can easily create a free account and share small screenshots of your designing processes, design drafts, interactive prototypes, app design concepts, and more designs.
What makes this website special is that it was tailored specifically for the designers in order to help them present their work in the best way possible.

Coroflot may not be as famous as Behance and Dribbble, but that doesn't mean that this website isn't worth checking out.
With over 2 million images for over 150,000 creatives published, Coroflot is without a doubt a great platform for building amazing interaction design portfolios.
It has an amazing job board which is basically a platform specifically targeted for the hiring needs of companies, which makes it really stand out from the competition. So if you are searching for the best UX design, this one probably deserves a chance.

Adobe Portfolio is of the free tools included in paid Adobe Creative Cloud plans. It will help you create a beautiful product design portfolio quickly and easily while it also offers a free Creative Cloud subscription service.
In addition to that, since Adobe is one of the sponsors of Behance, Adobe Portfolio allows designers to synchronize design updates to Behance for free of charge.
Ending thoughts on making the best UX designer portfolio website
Every UX designer out there could benefit from having a well-designed UX designer portfolio. However, not everybody knows how to build one in a way that represents their work the best.
The most important thing to keep in mind is that the process needs to be kept at the forefront.
This way, the potential clients will have a better chance of understanding who you are as a designer and whether or not your work can help them solve their problems.
We hope that you enjoyed this article created by our team at Amelia, probably the best appointment scheduling plugin for WordPress.
You should check out this one on affordance in web design.
We also wrote about a few related subjects like how to become a UX designer, persona templates, UAT testing, User Interface design principles, and web usability.
Why are website color schemes so important?
Everything, every little detail that is a part of your website design is important and impacts the user experience in some way. One of the things that easily gets overlooked is the color scheme because people often underestimate it.
Choosing the right website color schemes might not seem like much, but it can get you a long way. Cool color schemes will make the user feel more welcome and comfortable on your website while enhancing the overall user experience.
For Amelia, our WordPress booking plugin, we chose the calm and neutral blue color scheme with bright accents. Later, you will find out why.
The Importance of using the proper website color scheme
The best website color palette is the one that will help you:
Catch the user's attention;
Engage your target audience;
Turn visitors into customers;
Spread word of mouth;
Make the visitors interested in your brand
In today's competitive market, there are many businesses out there and the key is to stand out from the pack in some way if you want to turn the visitors into customers.
With that in mind, you have to know that all elements on the website affect the visitor's final decision. If you want to help them cross the line between visitors and customers, you have to think about everything, especially about the website color scheme.
Website color scheme tips
Determine the Product / Service You Are Selling

It always comes down to the product or service that you are selling and you have to choose beautiful colors that pair well with the product.
For instance, if you are selling environmental products, the logical way to go would be by choosing a green color scheme rather than, for example, a red color palette. The website color scheme has to be inspired by the product or service.
Know your Target Audience
A good website color scheme is one that your target audience wants to see. A modern color palette will do great with a younger audience while a more neutral color palette might be better for older folk.
Another thing to keep in mind is that a bright website color scheme full of vibrant colors can cause eye fatigue and drive visitors away.
Choosing a Background Color
When choosing a website color scheme, keep in mind that the background color's purpose is to punch the body of the page forward and keep the focus on the content.
Make Your Text Black

Reading black text is easy on the eye and it is something people are used to seeing. You can get a little creative and play around that, but there is no need to stray too much from what we all know that works.
What Does Each Color Tell Us? 
Different colors have different meanings are we are used to seeing them in specific contexts. Here are some of the most popular colors and the stories behind them:
Red

 is a color that invokes a strong emotion. It is a powerful color often used with a call to action elements such as "Buy now", "Reserve now", and similar. It is easily noticeable but it should be used cautiously because it can be a little overwhelming if you have fully red websites.

Orange

 is often used in websites that promote or sell food products. It is a warm color palette associated with increasing creativity and positive thinking, and it is particularly popular among the younger generation.

Yellow

 is often a part of modern color schemes and while it can be incorporated into almost any website, it is particularly appealing to children. However, keep in mind that it shouldn't be the dominant color as it can get exhausting for the eyes. Instead, it should be used as an accent color to highlight certain elements and to add some personality to the website design.

Green

 is often associated with nature, tourism, environmental "green" products, etc. But the story of the color green goes beyond that. Green is often a part of the best color schemes because it is pleasing to the human eye, it symbolizes wealth and prosperity, and it is one of the most trendy colors.

Blue

 is a conservative color known to relax the nervous system while it also invokes trust. It can be easily incorporated on almost any website. One thing to keep in mind though is that it shouldn't be used for text as it is not the standard color for the human eye to read with.

Black

 is one of the most useful colors in website design, especially when it comes to text. It is also associated with art and photography. It works great especially when you have a vivid accent color with it.

Purple

 is used in religious and vacation sites.
Capture a Feeling with the Right Website Color Schemes
Website Color Palettes that Excite an Audience

Triggering an emotional response with the audience can lead to many things – one of which is completing the purchase. The best example of how this works is the way children's brands use color choices to excite their target audience. Long story short, if you can get the potential customer excited about your product or service, there is a much better chance you will sell it.
To create excitement, modern colors, and bright shades are often used as a part of the web design. For example, red color schemes are more likely to trigger an emotional response than a simple grey color palette or a black and white website. Keep that in mind when choosing the colors for your web design project.
A Website Color Scheme That Increases Brand Sentiment
We talked before about keeping the target audience in mind when choosing the best colors for a website. However, there are some colors that can be easily incorporated into any website color scheme as they are universally liked across the board.
A green color scheme, teal color scheme, light blue color palette, and navy blue color palette are some of the examples of colors that are appealing to all generations and audiences.
Website Color Schemes that Add Credibility

If your goal is to create a more professional, business website, you should stay away from too vibrant and bright colors. Using a website color scheme that adds credibility is a better option in cases like that.
Think about using vintage colors as a part of the retro color palette, a soft color palette with gentle tones, or an earth tone color palette as a part of a warm color scheme.
If you are going with a dark color palette in web design, make sure to add a soft touch with a lighter color to make the website seem less cold and to add some personality.
Website Color Schemes that Increase Trust

While there are many great color combinations that are appropriate to use, if your first goal is to be viewed as a trustworthy and stable brand, use the color blue.
Blue, as a part of a website color scheme, is known to increase feelings of trust. It is no coincidence that around 53% of corporate brands in America use blue as a part of their logo.
Think about Your Industry
You can use a lot of website color scheme options but always keep in mind your industry and the colors associated with it.
Green for eco-friendly brands

This one might seem obvious, but we have to mention it anyway. If you are developing an eco-friendly brand, there is no better website color scheme for you to use than a green color scheme.
Blue for water
Even though water isn't technically blue, everybody's first association when it comes to the ocean is the color blue. If your brand has anything to do with water, use different tones of blue in your color scheme to create that wave effect that everyone is expecting to see.
Blue for Finance

When it comes to finance, you want your brand to be viewed as stable and trustworthy – which is why you should use blue in your website color scheme.
Red for retail
Using red in a brand's and website color scheme is very popular among retailers; 59% of retailers have red in their logo. The reason behind it is the fact that this color easily generates excitement and makes the customers want to complete the purchase.
Awesome Website Color Schemes


BAUNFIRE is a top digital web design agency in San Jose, California. Their creative team of web designers, interactive developers, and marketing strategists provide branding, graphic design, and corporate website services for leading technology companies, brands, and startups. They have quite the website color scheme which can be easily replicated.


Matter is a feedback platform for professionals who want to reach their career aspirations.


Kaiten helps people to visualize their process using multiple boards, monitor effectiveness and make informed decisions.


Introducing Zendesk Sunshine, the open, flexible CRM platform. Sunshine is built on AWS and lets you seamlessly connect and understand all your customer data—wherever it lives.


Crazybaby Air 1S are true wireless headphones designed for sports, offering uncompromising Hi-Fi sound quality to keep you pumped while you break a sweat.


A stress-free Headless CMS, GraphQL API, and Static Site Generator with a great website color scheme to help you get your projects done.


Introducing a collection of bespoke rings that live up to the moment. But that doesn't matter much for you. Its website color scheme is lovely to say the least.


No bullshit course on animation and motion design in After Effects. Its website color scheme is full of vivid colors.


Their debut ARK project this December is to share happiness with as many people as we can. They believe Happiness is only real when shared.


From a love of minimal shapes and edgy details, the lūstone brand was born with a mission to create stylish leather bags and accessories for the Australian market.


Setter manages all of your home maintenance and projects so that you can get back to living.


They are 45 designers, developers, and creatives. They turn ideas into products and experiences that people enjoy.


Entrepreneurs, business owners, non-profit leaders. They all love to innovate and challenge the status quo.


Identifying that unique and individual spark that illuminates the beauty of each and every woman. This is the key to our creativity at Mistretta Coiffure, a refined and exclusive 'trend laboratory' where shapes and colours blend to create a unique and personal esthetic experience.


Collect by WeTransfer is the best way to organize your ideas. Save content from across your apps and bring it together for your friends, your team, or just for yourself.


Getting into good ICOs is becoming more difficult all the time. Not anymore, enter the ICO Syndicate.


TONIK+ infuses potent *I AM* declarations (Mantras) with a soothing ambiance. Each Mantra is delivered as a small repetitive dose (microdosing).


Benefit Vantage Limited – Your trusted Mobile Technology Partner. As technology continuously disrupts the norms, especially in the mobile world, we are here to guide you through your successful digital transformation and mobile business success.


They are a multidisciplinary team with a proven track record. They love to join forces with fellow strategists, design thinkers, and innovators to create apps that delight users and exceed expectations.


They're a team of creatives that love nothing more than creating incredible stories. They specialize in branding, animation, and web; uniquely combining our skills to produce magical digital experiences.


BarkBox is a great example of a site using a cute website color palette that makes the visitors feel welcome and comfortable. The soothing shades of pink are repeated throughout the page as they contrast beautifully with the shades of blue used both in the website design as well as in the brand's logo.
Red is the best choice when it comes to choosing the color for your call to action elements. It naturally triggers excitement and compels the visitors to make a purchase. You will often find it as a part of retail websites, especially when it comes to the elements that are supposed to draw the visitor's attention immediately.


Nordic Ruby, a conference in Stockholm, uses a beautiful blue and orange website color scheme that adds a certain elegance and sophistication to the overall design.
LemonStand


If there is a website that could benefit from using a blue-yellow website color scheme, it is a website called LemonStand. However, they managed to incorporate this vibrant color into the palette beautifully, without making it too overwhelming and disruptive.
Unfortunately, LemonStand has shut down as of June 5th, 2019. by following this link you can learn more about LemonStand alternatives that might be a good fit for you.


Since Mint is a website dedicated to finance, it is no surprise that we can see lots of blues and greens here. However, by adding soft touches of brown into the mix, they created a lovely earthy website color palette that is both soothing and conveys trust.


Odopod decided to go with simple color templates but they added a dose of personality by incorporating gradient on the homepage, as well as large typography.


One of the good practices in website design is reserving a specific color for CTAs – and not using them anywhere else on the website. Fiverr did it too and in their case, it is the color green that appears only on the call to action elements.


Ahrefs created what could be called a liberal color palette that is creative and interesting, yet still easy to look at.


Millo.co uses their website color palette to make you look exactly where you are supposed to. It is a simple color palette and the design is very intuitive.


Best color palettes are often the palettes that put the visitor at ease. Loom did it beautifully by using baby blue combined with a touch of salmon. It also uses different color blues for CTAs which makes the design even more interesting and intuitive.
Online Color Palette Generators

Coolors is a super fast color generator that is free of charge and will surely help you the right color scheme. The key features include:
Fast and simple – it takes nothing more but pressing a spacebar to create beautiful color schemes that work together perfectly
Export and share – Export your schemes in multiple handy formats like PNG, PDF, SCSS, SVG, or copy the permanent URLs
Image to colors – pick up starting colors from your images and get the perfect combination automatically
Palettes collection – Create your profile and keep all your color schemes well organized with name and tags
Adjust and refine – Customize your colors precisely by adjusting temperature, hue, saturation, brightness, etc.
Colors in the cloud – login to your account and access your creations everywhere

Mudcube is a palette generator that takes the color wheel to 3D where you can rotate a sphere around to get the perfect colors. It comes with 10 harmony presets, 9 vision presets, and 3 quantize presets. It also has a selection of themes from a drop-down menu to choose from if you don't feel like creating one from the scratch.  You can download your palettes in .AI or .ACO files

This color scheme picker is for those who don't feel like spending too much time playing around with the color wheel and adjusting the colors to perfection manually. This tool lets you select the color of your choice from the selector while the app does the rest for you.
You can experiment with different harmonies such as full HEX, HSL, and RGB info. These values CMYK, RGB, etc. will help you to find a particular color from the swatch and when you click the swatch. it will be added in your palette.

SpyColor.com is a very useful color information and color conversion tool. All you have to do is type whatever comes to mind and the search results will suggest you the best results.
You can type in a color name, for example, Amaranth Purple and you will get a beautiful selection of purple color schemes for you to choose from.

ColorZilla is a wonderful advanced tool for creating an amazing CSS color palette. The advanced features include:
Eyedropper – get the color of any pixel on the page
Advanced Color Picker (similar to Photoshop's)
Ultimate CSS Gradient Generator
Webpage Color Analyzer – get a color palette for any site
Palette Viewer with 7 pre-installed palettes
Color History of recently picked colors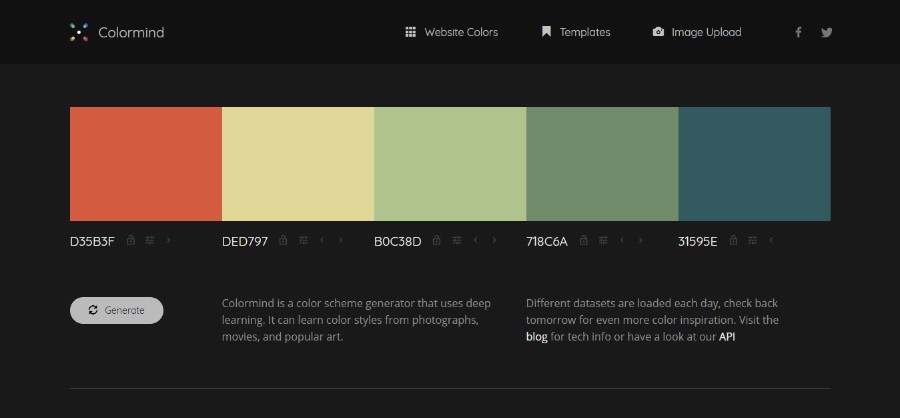 Colormind is a unique tool that uses color styles from films, art, and photos in order to create a color palette. If no colors are locked, it creates random website color schemes. If, on the other hand, you have a particular starting color in mind, all you have to do is lock that color and let the generator do the rest of the job.

ColorHexa is a great tool for designers that allows you to put a color value into the search bar and it will then display the information related to color schemes, alternatives, tints, tones, etc.

Palettable is an amazing color combination generator that creates a palette using the knowledge of thousands of designers. It has a full-screen display that helps you better see how the colors of your choice complement each other. In addition to that, it offers you suggestions for various colors that can be customized to your liking.

Canvas colors is an amazing color information tool that will let you know everything from the meaning of the colors of your choice to the best color combinations. It comes with hundreds of pre-made color combinations that include the descriptions of each color and the colors it pairs well with.

When you open Colordot, your entire screen will be colored in a color of your choice that you can easily adjust or change simply by moving your cursor. Once you find the color you like best, you can save it simply by clicking on it. This tool also comes in the form of an iPhone app.

In Material Palette, you have to pick any two colors from the given tiles and the app will then create a color palette for you. These website color schemes can be easily downloaded or tweeted.

COLOURlovers is a creative community where people from around the world create and share colors, palettes, patterns, and discuss the latest trends in the world of colors. You can easily join the community and share your own designs and enjoy all the other user-generated content. The membership is free and everything here is done in the spirit of love.

Pictaculous is a color palette generator courtesy of MailChimp that lets you generate a color palette from PNG, JPG or GIF image or photo. Basically, all it takes is to upload a picture of your choice and let the app do the rest. Then, the app creates an Adobe swatch file for you to help you download the color palette quickly and easily.

Colorexplorer was created by Kim Jensen as a fun little side project and it turned out to be quite useful and popular. It is all about exploring colors and different combinations to create the most unique and beautiful website color schemes.
It comes with a variety of useful tools such as those for uploading CSS and HTML files, evaluating and working with colors from an existing website, matching tools with a large number of matching algorithms, advanced picker tool, color conversion tools, and many more.

Colors on the Web – The Color Wizard is a color matching application for anyone who wants to create new designs with beautiful website color schemes. All you have to do is enter the hex value of your color or select a color from the drop-down and the app will then process it and return a range of matching colors.
This tool also comes with a unique tool called the Contrast Analyzer that lets you know whether two colors meet the accessibility guidelines defined by the W3 consortium.

Color Combos is all about creating the perfect color combinations for your new website color schemes. It was designed specifically for web developers to help them quickly pick and test various color combinations and palettes. This tool includes the combo library, combo tester, combo maker and font color tester.

COPASO by COLOURlovers is an advanced tool that will help you create the desired website color schemes quickly and easily. However, keep in mind that you have to be logged in in order to save the palette of your choice. This tool comes with many options for creating color palettes in the form of preset triadic, tetradic, complementary, and split-complementary colors.

Working with Color Blender includes several simple steps:
Pick a color value format, input two valid CSS color values in the format you chose, and pick the number of midpoints you'd like to see. The palette will show the colors you input as well as the requested number of midpoint colors, and the values of those colors.
Clicking on a square in the "waterfall" display will fill in the appropriate value for whichever input is highlighted.
Switching between value formats will translate whatever values are in place.
"Clear" removes all values and colors, but does not change the current value format.
The URL of the page is updated with each change so you can share or bookmark the colors, blend steps, and value format currently shown.
If you'd like to have the Color Blender for offline use, just view the source and save it to your hard drive.

Colllor is a useful generator for creating nice-looking website color schemes and pretty color palettes with just a few simple clicks. A feature that stands out is the tool that helps you find the exact value of the darker shades of any color which is very useful for creating a professional color palette for a website.

Giovanni Scala created Check my Colours with one simple idea in mind – to see the foreground and background color blend of all DOM elements and to decide if they provide sufficient contrast when viewed by someone suffering from a color deficiency.

Colr.org is a great tool for creative professionals who enjoy playing around with their colors and testing all possible combinations. One of the cool features of this tool is that it enables you to see the range of colors available within a picture of your choice.

COLRD is a great tool that not only allows you to create cool color backgrounds, app color schemes, and beautiful color palettes, but it also lets you share your inspiration with the world. This tool shares tons of beautiful patterns, gradients, and images that will help you create the most unique designs.

Another great tool for generating website color schemes – DeGraeve Palette Generator. It is a web-based tool that is not only very useful, but it is also completely free of charge. All you have to do is paste the URL of an online image of your choice and the generator will then create a color combination related to the image in question.

PHOTOCOPA is another great tool by COLOURlovers that will help you create lovely color palettes for websites that are image-inspired. In order to create the best website color schemes with this tool, you will have to upload a photo from the web and then keep it in the gallery as an inspiration for other users.

Colorion is a tool with 3 main options: base colors, gradient buttons, and image to the material palette. It will help you create wonderful color palettes for professional websites in just a few simple steps.
Ending thoughts on website color schemes
Colors and their different shades have a very important part in web design. Not only will the right website color schemes help you keep the visitors around longer, but they can also influence their actions and turn the visitors into customers.
Choose your color palettes wisely while keeping in mind the industry you work in as well as the target audience. Play around with the color tools and see which one of the website color schemes best fits your design.
If you enjoyed reading this article on website color schemes, you should check out this article about the pastel color palette.
We also wrote about a few related subjects like blue websites and yellow color palette examples. But also an interesting piece with WordPress table plugins.